Review: Lenovo's ThinkServer RD630 Makes A Place For Itself
2:00 PM EST Mon. Oct. 15, 2012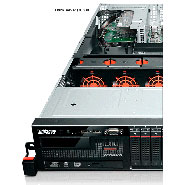 Click image for full-sized view.
Heads up Hewlett-Packard; Lenovo's on the march with a fast rack server. When the CRN Test Center performed its Battle of the Titans this past summer, which pitted Xeon-based rack servers from Dell and HP in head-to-head Geekbench battles, we had little notion that another young contender was in our midst.
But today there's a new machine in the second position on the Test Center's Top 10 all-time best performing servers. The Lenovo ThinkServer RD630 scored well enough in Geekbench performance on our benchmark test to bump HP's ProLiant DL380p into third place. Still in the top spot with a comfortable lead is the Dell PowerEdge R720.
One of two new two-socket models, the ThinkServer RD630 is the more expandable 2U edition, which can accept as much as 16 TB of hard drive storage in 16 hot-swappable 2.5-inch, 6 Gb/s drives, double the capacity of its 1U counterpart, the ThinkServer RD530. Both models are equipped with 20 DIMM slots, capable of wielding as much as 320 GB of 1,333MHz DDR3 system memory.
NEXT: Setting Up The Tests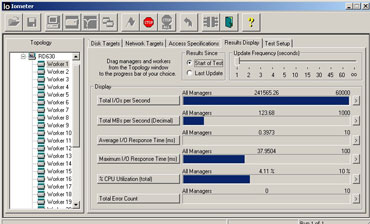 Click image for full-sized view.
Lenovo knew exactly what it was getting into. Prior to sending a review unit, the Test Center gave the company a list of specifications and a description of how the machines from Dell and HP were configured along with a request to configure its machine as closely as possible to the other two.
For testing, Lenovo sent a ThinkServer RD630 populated with two Intel Xeon E5-2690 2.9GHz processors, with 128 GB of 1,333MHz DDR3 memory, six 600-GB Toshiba 10K, 6-Gb/s SAS drives (model MBF2600RC) configured as a single RAID 5 array and controlled by an LSI MegaRAID SAS 9260-8i RAID controller. The machine also arrived with Microsoft Windows Server 2008 pre-installed.
As soon as the first results came in from the 64-bit tests within Geekbench 2.3, testers knew they were looking at a worthy competitor. The first reported score, usually the slowest, was 38,201, already good enough for second place. After a few more runs, the RD630 displayed its highest score of 38,281. That cemented its status behind Dell's R720 powerhouse, which topped out at 40,250; no production server we've seen has scored higher.
But since it was supplied with 1,333MHz memory per its specified maximum, the ThinkServer was at a slight disadvantage. The machines from Dell and HP came with 1,600MHz DIMMS. So, we offered to retest the ThinkServer if Lenovo was willing to send us faster memory; the reviews team said they'd get back to us.
Meanwhile, tests of the ThinkServer's throughput and transaction processing capabilities were moderate. Using IOmeter to conduct sequential read operations of 512-byte packets, testers measured a maximum sustained transaction rate of 241K IOps and a transfer rate of 123 MBps. Switching to a 32KB block size, the transfer rate peaked at 745 MBps, finally leveling to a sustained rate of 740 MBps, while processing 22.7K IOps. The optimal queue depth for all tests was found to be 96 pending IOs. Dell's PowerEdge R720 delivered a maximum transaction rate of 311K IOps, and in separate tests it was able to transfer data at a maximum of 462 MBps.
NEXT: Under The Covers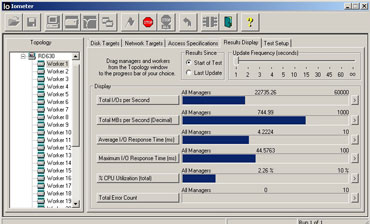 Click image for full-sized view.
We also liked the ThinkServer for some of its physical attributes. The top cover is removed with a single release lever and contains complete system documentation printed on its underside, including front- and rear-views, motherboard component layouts, rules and instructions for DIMM and processor insertion, and an explanation of the dip switches. Its six hot-swap fans are handled individually and quietly blow into a large plastic shroud that directs air over the processors and the processor-specific banks of two-channel memory.
Toward the rear is a pair of tools-free riser cards, each delivering two x8 and x16 PCIe slots, one of which was occupied by the LSI MegaRAID controller. The system also includes redundant, hot-swap power supplies. And on the subject of power, the ThinkServer consumes surprisingly little. During periods of peak load, the system drew just 171 watts peak.
Pricing for the 2U ThinkServer RD630 starts at $2,699; the 1U RD530 starts at $2,399. Both include a three-year on-site warranty and are well-suited for small companies, departments and branch office installations that require great performance and expandability at a value price. Lenovo's ThinkServer RD630 is a recommended product by the CRN Test Center.
PUBLISHED OCT. 15, 2012