Whitman: No Smartphones In 2013, But HP Will Tussle In Tablets
4:30 PM EST Mon. Oct. 29, 2012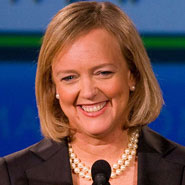 Meg Whitman
Hewlett-Packard CEO Meg Whitman said that while she does not expect her company to release a smartphone until 2014 at the earliest, HP will be a major force in the tablet and mobile PC markets.
Whitman also said during a question-and-answer period during her Mastermind presentation at last week's Gartner US Symposium/ITxpo in Orlando, Fla., that HP has to be a competitor in the smartphone and PC markets as the two merge into a gigantic mobile device market.
"Listen, there will be ups and downs in this business," she said. "PCs may be declining. Tablets may be growing. The business definition here is 'personal systems.' It's not PCs. It's personal systems. And we think we can win."
[Related: HP's Meg Whitman: Cisco's John Chambers A Good Friend, But Wrong About HP]
Whitman said HP will not have a smartphone in 2013.
"But I suspect we will beyond that because we've got to, I believe, have the full array of devices," she said. "If we are in the personal compute business, the smartphone is the main device in many countries in the world. I don't know how we can be HP without having the full range of devices."
Mont Phelps, CEO of NWN, a Waltham, Mass.-based solution provider and long-term HP partner, said he is glad to see HP's strategy for moving forward on the smartphone and tablet PC markets. And for anyone who thinks HP is late to the market, Phelps said he is not sure he agrees.
"What's the shelf life on these products?" he said. "Slightly longer than for my underwear. Stability has come to the PC and desktop. But the market for smartphones and tablets is still developing. If someone comes out with a better solution, we have the capacity to develop the market. Look at the Apple iPhone. The fifth generation is out already. First movers have the advantage. But over time, the better solutions win."
Even so, the smartphone and tablet PC market do differ in terms of timing, Phelps said.
"I'm more concerned about the pads," he said. "The longer we go without a business-compatible Microsoft solution, the bigger the effort to force the iPad into businesses. I don't think that is the right thing for us in the business. The longer this goes on, the more traction the iPad gets." The smartphone market is different, Phelps said. "Smartphones don't have the competitive pressures from Android," he said. "I'm enjoying the battles between Apple and Google."
Whitman passed on the question of which operating system, be it the Android, Windows Phone or WebOS, HP would adopt for its smartphone.
"Ultimately, if we decide to do a smartphone ... we will make a decision about what the right operating system is," she said.
Whitman was also asked about how she feels about Microsoft entering the tablet PC business with its own hardware, to which she replied that Microsoft is still a really good partner of HP.
"I come from a world of coopetition," she said. "In my career, sometimes you're cooperating, sometimes you're competing. We're very comfortable with that. And we'll put our capability for devices against anyone's, including Microsoft's."
HP has some huge strengths it can use to compete in this new tablet PC market, including its engineers, its distribution and its trusted relationship with CIOs, Whitman said. "So competition? Bring it on," she said. "I think it makes us better."
NEXT: Competing And Cooperating With Microsoft


Whitman said that Microsoft's Surface appears to be focused on the consumer business. In this market, HP is coming out with two hybrid models that function both as a laptop and, when the screen is unlocked from the keyboard, as a tablet PC. While the Surface has a keyboard, the device does not really function as a traditional laptop, she said.
"We think there's a lot of growth in the enterprise for tablets for workers," she said. "So whether you're an insurance company or a retailer or, you name it, there is a demand for tablets in the enterprise that is enterprise-grade, enterprise-built for security."
With HP's tablet, users can remove the back or replace the screen. They feature a 10-hour battery life, which can be extended another 10 hours via a "Smart Jacket" that fits over the tablet, she said.
When asked why staying in the PC business is important to HP, Whitman said that after she joined HP, it was the first big decision she had to make after her predecessor Leo Apotheker said the company was considering selling off its PC division. But after a 30-day review by a team of 100 people, the company decided it made sense to stay in the PC business.
One reason was the fact that PCs were the heritage of HP. "It's nearly a $40 billion business," she said. "We're still No. 1 in the marketplace."
HP also gets tremendous supply-chain synergies by having a large PC business to go with its server and storage business.
PUBLISHED OCT. 29, 2012