Carl Icahn Calls Latest Dell Proposal 'Outrageous,' Bad For Investor Protections
5:01 PM EST Wed. Jul. 24, 2013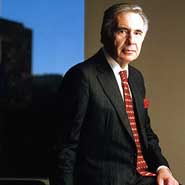 Carl Icahn
Investor Carl Icahn responded to Dell CEO Michael Dell and his investment allies' latest move to increase their offer to 10 cents a share to take Dell private by calling the offer unfair and saying it takes away investor protections.
Icahn, in a Wednesday SEC filing of an open letter to Dell shareholders, responded to Michael Dell's plan to boost his and his allies' offer by 10 cents per share to $13.75, contingent on the approval of a change in whether or not to count non-votes, such as absentees.
Under the new proposal, shareholders who do not vote would see their shares not counted in the final tally. This is a significant change in the current plan in which a non-vote would count as a vote against Dell's privatization bid.
[Related: Dell Execs Behind The Scenes: We Can't Flip-Flop On Strategy]
Michael Dell and Silver Lake Partners also proposed to the Dell board's special committee that the shareholders vote on the privatization bid, originally rescheduled for Wednesday, be delayed until next week.
Icahn, who is leading a group of affiliated investment companies and third-party investors planning to vote against the privatization, was fast to react to the new proposal.
Earlier Wednesday, Icahn tweeted to his followers, "All would be swell at Dell if Michael and the board bid farewell," per an earlier SEC filing.
Dell's privatization bid is both exciting and frustrating, said Roger Michelson, vice president and COO of BNMC, an Andover, Mass.-based solution provider and long-term Dell partner.
"The biggest frustration with the people we work with is that Dell has made all these acquisitions over the years, and is moving more into services," Michelson said. "So Dell partners can go to customers with a complete solution with services bundled around it. We never could do that before. But, Wall Street doesn't really see it. The frustration stems from the company getting punished by those who only look at the number of products pushed this quarter when that's not the business Dell is in today."
NEXT: Icahn Calls Latest In "Desperate Dell Debacle" Outrageous

In his latest response, Icahn said that in Wednesday's latest installment of the "Desperate Dell Debacle," Michael Dell and his partner Silver Lake are attempting to force the transaction across the finish line by taking away what he wrote was the "one stockholder protection," the requirement that a majority of non-Michael Dell shares approve the deal.
"The Special Committee has now been asked to GUT this provision to effectively render it meaningless. And, in return, Michael Dell/Silver Lake have offered to increase the deal price by $0.10, or 0.73%!" he wrote.
Icahn also called changing the rules at the last minute "outrageous," especially since Dell, Michael Dell, and Silver Lake in February agreed in the merger agreement that the required stockholder approvals "shall not be waivable."
"Today, Michael Dell and Silver Lake crossed the Rubicon by trying to take away the one provision in the Merger Agreement that actually provided stockholders with a voice in their company," he wrote.
Icahn also called on Dell to eliminate what he called the "outrageous" $450 million break-up fee and make it easier for other offers for Dell to be considered superior proposals as a way to encourage competing bids.
Icahn ended his letter scolding the Dell board of directors of not being serious in how it is managing the bidding for Dell.
"A few days ago we warned this Board not to run the Company like a banana republic. Some commentators have even compared this 'Desperate Dell Debacle' to Vladimir Putin and North Korea! After this latest action by Michael Dell/Silver Lake, we are clearer than ever -- it is time for Michael Dell and this Board to go," he wrote.
A Dell spokesperson said the company declined to comment on the newest proposal. A spokesperson for the Dell special committee said that organization had no comment beyond the earlier revised proposal.
PUBLISHED JULY 24, 2013