The Final Cut
By Steve Burke
November 26, 2013
Far too often disruptive technology startups put so much time into the engineering of the product that when it comes time to develop a channel strategy it is nothing more than an afterthought.
It's ironic, given the fact that it is often not the best technology that wins out, but the best sales and marketing strategy. In the case of Palo Alto Networks, the pioneer of the highly disruptive next-generation firewalls that are reshaping the network security market, the company has put as much thought into its channel sales model as its technology.
Palo Alto Networks, in fact, was built from the ground up as a 100 percent channel sales company. And its top-notch channel sales team has made sure that its sales model is just as disruptive as its next-generation firewall.
[Related: Palo Alto Networks CEO: 12 Reasons We're Set To Soar In 2014]
Early on, Palo Alto Networks made a conscious decision to go long and deep with a select group of Navy-Seal-like security experts that are deeply embedded into every nook and cranny of the Santa Clara, Calif.-based company. The Palo Alto Networks' channel partners, in fact, are treated like they are part of the company. That means they go to market in a very disruptive fashion with the company using its own innovative software tools.
The company's Pulse partner tool provides business planning in a box, measuring partner bookings, profitability, enablement activities, marketing activities, pipeline conversion, and, most importantly, sales goals. And its Tracker tool, aimed at getting partners to reach the highest levels of the partner program, provides a single-pane-of-glass view of exactly where the partner stands relative to other partners in every critical area including performance.
Those home-grown tools are just one of the reasons that of the top 150 partners attending the company's recent partner conference, 141 doubled their sales in the last year. Think of it: An amazing 94 percent of partner conference attendees doubled their sales. That doubling of sales each year is only the start. The true genius of the sales model is that once a customer has bought the box, they keep adding new subscription security services at a rapid clip, including the new WildFire subscription service. For Palo Alto Networks security partners, the box has become the ultimate recurring revenue game-changer, with the average customer purchasing 5.4 times more software services over a multiyear period.
What's exciting about the Palo Alto Networks model is the company is upping its game adding new channel talent like 15-year channel veteran Ron Myers; security sales guru Vince Massey; and highly regarded sales leader John Spiliotis. That channel talent adds to an already strong team of Tracy Pallas, vice president of channels and distribution, and Donna St. John, head of worldwide channel marketing and partner programs.
The Palo Alto Networks channel team is not just checking off the boxes building a me-too program. It is determined to disrupt the market with a next-generation channel. That's paying off in record-breaking sales for the company and its partners.
BackTalk: Steve Burke writes a monthly opinion column on CRN.com. You can reach him via email at sburke@thechannelcompany.com.
PUBLISHED NOV. 26, 2013
---
October 29, 2013
CEO commitment has always been a staple of great channel companies, but it is becoming even more critical as solution providers make big, new bets in the cloud computing services era. That's because solution providers are building out their own integrated stacks, making huge capital investments to cross the cloud computing chasm. These bets are so big that many cannot make more than a few. In effect, CEOs are waging a battle for the cloud computing armies that will determine which vendors thrive and which vendors flail and flounder in the buy-IT-as-a-service era.
That CEO commitment, by the way, was front and center at The Channel Company's Best of Breed conference, the channel thought leadership event held recently by CRN publisher The Channel Company. Both Dell founder and CEO Michael Dell and Hewlett-Packard CEO Meg Whitman addressed solution providers with highly personal appeals to partner with their respective companies. And several partners had dinner with Dell, talking business in an informal setting. Both Dell and Whitman are their respective company's greatest assets, bringing not only extraordinary business acumen, but also a warmth and charm that many of their competitive CEOs lack.
[Related: CRN's Coverage Of The Best Of Breed Conference 2013]
Far too often, technology vendors forget solution providers are customers. And like all customers, they buy from people they like. It's about relationships. It's about personal commitment. It's about stepping in to help out when something goes wrong. And, of course, nothing is more powerful than one-on-one meetings to build those personal relationships. Besides those meetings, there are the personal touches that make a difference. Solution providers talk about Michael Dell sending Christmas cards and regularly checking in to see how a partner is doing. More than a few have asked for sales help and have been surprised at how quickly Michael responds.
Jed Ayres, senior vice president of partner management and marketing for MCPc, said Michael reaches out regularly to MCPc and is helping his company, the winner of the 2013 SP500 Business Transformation Elite Award for its Anyplace Workspace, win new business. His Dell sales are up 50 percent in no small part because of Michael's personal commitment. The customer "intimacy" Michael brings to the channel translates into millions of dollars in sales, said Ayres.
Whitman has the same kind of personal power. When she meets someone one-on-one or is in the sales trenches connecting with partners and customers, you can bet it results in net new sales for HP. Rich Baldwin, CIO and chief strategy officer of Nth Generation Computing, a San Diego HP partner, said Whitman's keynote at his company's customer event in July has already helped his company close about $9 million in new business with another $28 million in the pipeline. "It raised our ability to connect higher in many organizations, including three or four CIOs that we had not been able to get an audience prior to our symposium," he said.
BackTalk: Steve Burke writes a monthly opinion column on CRN.com. You can reach him via email at sburke@thechannelcompany.com.
---
September 30, 2013
ServIT Inc., a $27 million Kennesaw, Ga.-based solution provider, is a classic example of how IT-telecom convergence is recasting the traditional solution provider business model. ServIT has been experiencing 400 percent services sales growth in the past several years with its "all-inclusive" technology services offering.
ServIT's "CIO in a box" technology offering includes everything from co-location to managed cloud to managed backup to telecom services, and it's resonating with customers who are demanding a single throat to choke as they navigate the blinding pace of change that has come with the convergence of IT and telecom in the cloud era. "It is just on fire," said Allen Brooks, executive vice president at ServIT, of the technology services offering. "Our customers are asking us to either help them expand their workforce [with solutions driving sales growth] or replace their workforce."
ServIT's success is just one of many examples of customers moving aggressively to invest more in line-of-business, customer-facing offerings and less in IT-telecom administrative overhead. It's that trend that is driving more customers to outsource IT-telecom overhead to solution providers such as ServIT.
[Related: CRN's 2013 Network Connectivity Services Partner Program Guide]
"We take it all, we do everything," said Brooks. "It is all-inclusive. You pay us one fee for all your IT services, and the headaches go away." ServIT, which operates in 16 states, is one of the solution providers taking advantage of distributor Synnex's game-changing partnership with Comcast Business Solutions.
In a deal unveiled at last month's XChange conference, Synnex became the first IT distributor to serve as a master agent under Comcast's Business Solutions Provider Program.
The Synnex-Comcast deal is only one small part of the story. Our XChange conference was abuzz with solution providers moving aggressively to ramp up their telecom service offerings. The paradigm shift has solution providers teaming with master agents such as Intelisys and WTG, telecom providers such as AT&T, CenturyLink, Charter Business, Comcast, EarthLink Business, Time Warner Cable Business Class and Verizon, and cloud service providers such as Datto, Dropbox, Exablox, NaviSite, SaaS Markets, Sonian and Soonr. Brooks said his company's new relationship with Comcast via the Synnex deal is critical.
"No fewer than 50 times have we used a backup Comcast circuit and called 1-800-Comcast on behalf of our customers," he said. "For us, it's exciting, not just from a revenue perspective, but to have actually formed through Synnex a relationship with Comcast."
Brooks is planning to up the ante with a complete menu of telecom services based on broadband consumption, offering a number of options for customers including an all-you-can-consume service with help desk and business continuity services. "Every building, every business needs this [telecom service]," he said. "From a VAR perspective, this really opens up a lot of creative ideas."
BackTalk: Steve Burke writes a monthly opinion column on CRN.com. You can reach him via email at steve.burke@ubm.com.
---
August 26, 2013
Legendary Apple co-founder and visionary Steve Jobs once called death "the single best invention of life. It is life's change agent. It clears out the old to make way for the new."
Jobs' sanguine view of death says as much about companies as it does about human beings. It is a concept worth thinking about as we grapple with the creative destruction that is ripping the traditional solution provider model to shreds. In fact, more than 70 percent of the companies on the SP500 list in 2003 one decade later have disappeared from the 2013 list either through merger and acquisition, bankruptcy or through other means.
The rapidly accelerating pace of change recasting the solution provider business model and the technology services choices facing the channel is exactly why CRN through its parent company started the BoB (Best of Breed) conference three years ago. This year the conference, aimed at providing thought leadership to take the channel to high ground, takes place Oct. 15-17 at the Grand Hyatt Tampa Bay in Tampa, Fla.
[Related: CRN Exclusive: HP's Whitman On Enterprise Group Issues, Street Fight With Cisco And EMC]
Given Hewlett-Packard's innovative drive to rip up the old server model with its HP Moonshot server, it is no small matter that HP CEO Meg Whitman will be hosting a live question-and-answer session at the event.
If you want an example of just what kind of steps you should be taking to become a solution provider cloud power, look no further than GreenPages Technology Solutions, which has undergone a radical transformation under the leadership of CEO Ron Dupler. Most notably, GreenPages' Cloud Management-as-a-Service (CMaaS) platform, which was brought to market in January, is rapidly gaining momentum with more than 120 customers now running the service.
GreenPages, by the way, was No. 264 on the SP500 list 10 years ago with $78 million in sales. Today, GreenPages is No. 154 on the list with $126 million in annual sales. Some other good examples of companies that are making the grade in the cloud era: NWN Corp., which was founded in 2000 and was not even on the list a decade ago, is now No. 88 with $266 million in annual sales thanks to the vision of founder and CEO Mont Phelps; Compugen, which was founded in 1981 by current CEO and President Harry Zarek,was No. 164 on the list a decade ago and is now No. 58 with $443 million in annual sales; and finally, Denali Advanced Integration, under the leadership of founder and CEO Majdi "Mike" Daher, was only a $19.5 million company a decade ago, and is now No. 114 on the SP500 with $114 million in annual sales.
The lesson for solution providers that want to climb the ranks of the SP500 is simple: Change or die. That means making sure you understand the business and technology models that are ripping up your business, and adapting to them. That is what the BoB conference is all about. It's an investment that is sure to pay off. Those interested in learning more about the event can email Christopher Kopacko or call him at (508) 416-1161.
---
June 19, 2013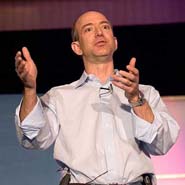 Jeff Bezos
Hewlett-Packard COO Bill Veghte caused quite a stir when he closed the company's recent Discover conference with the announcement that HP had inked a deal that makes Workday a customer for HP's public cloud.
Amazon Web Services, for its part, was quick to point out that Workday remains an Amazon Web Services customer, and that the relationship between Amazon and Workday continues to grow. Pleasanton, Calif.-based Workday is not talking.
[Related: Big Amazon Customer Signs On To HP Public Cloud]
Two things are certain:
1. HP has won a piece of the Workday business.
2. Amazon CEO Jeff Bezos is an investor in Workday.

Bezos' investment in Workday came as an $85 million Series F round of financing in October, 2011 that included Bezos Expeditions -- the Amazon CEO's personal investment entity -- as well as T. Rowe Price, Morgan Stanley Investment Management and Janus Capital Group.
Bezos, of course, can be none too pleased that a SaaS company he is backing has inked a deal with a rival public cloud player. Bezos Expeditions did not respond to a request for comment as of press time.
The HP-Workday deal, in fact, represents a watershed moment of sorts for HP's public cloud business. First off, it shows that a high-flying startup like Workday, which bills itself as the enterprise cloud for HR and Finance, sees a significant return on investment from making a bet on HP and the HP "enterprise grade" public cloud. Second, it shows that HP has proven its mettle with regard to sucking up data from Amazon Web Services and making it work in a hybrid cloud-like environment. Third, it shows HP's public cloud story is resonating with cloud-based SaaS startups like Workday, a highly profitable Amazon customer base. That's bad news for Amazon.
Workday, interestingly enough, was co-founded by Dave Duffield, one-time PeopleSoft co-founder and former chairman, who knows a thing or two about enterprise software. Duffield built PeopleSoft into an on-premise applications power that was sold to HP rival Oracle. Now Duffield is competing against Oracle with a Software-as-a-Service platform aimed at displacing PeopleSoft. My bet is Duffield sees the writing on the wall with regard to the future of the SaaS model and that future is well beyond Amazon Web Services.
Justin Fielder, the chief technology officer of EasyNet Global Services, a cloud-hosting and integration business that is betting heavily on HP's public cloud infrastructure, said as much at the Discover conference in his endorsement of HP's cloud offerings. "We needed a real big-step change in our ability to deliver to our customers," he said.
HP's services capabilities were critical, said Fielder. "There is continuity," he said of the HP relationship. "The same people that built it are the same people that are running it."
Veghte, for his part, was quick to point to HP's services prowess as a big differentiator. "It is not just log in and go, and if the site has an outage or an issue or a problem there is no one to call," he said. That, by the way, is a not-so-subtle reference to Amazon's infamous release notes providing updates on all issues, resolved or not, on a website rather than through an on-site services team.
"That [website-based contact] is necessary and modestly sufficient in some situations, but it is not sufficient for what you do every single day as you support your users and your businesses," Veghte told Discover attendees. "That is how we [at HP] approach what it means to have a cloud that enterprises rely on."
The differences between HP's cloud offerings and Amazon are stark. The web services marketplace is about to see a step up in class thanks to HP. The Workday deal is just the beginning. HP is just getting started.
---
Read more blogs from The Final Cut