Chip maker shuffles its road map and executuives as it unveils quad-core processors
Advanced Micro Devices Inc. was a busy chip maker in recent weeks, announcing a major update to its road map and a shake-up of top executives to go along with the creation of a new engineering division. At the same time, AMD managed to roll out its first-ever commercial client platform, new low-power, quad-core Opteron processors and its first batch of triple-core Phenom chips for OEMs and system builders.
Randy Allen, AMD's server/workstation chief, introduced a road map update this month that included plans for a six-core processor code-named Istanbul by the second half of 2009 and a 12-core chip called Magny-Cours, set for release in the first half of the following year. Allen also said AMD is on track for its transition to the 45nm fabrication process, achieved by rival Intel Corp. last fall, by the second half of this year.
Allen later was promoted to head AMD's computing solutions group, replacing outgoing Mario Rivas, who the chip maker said left "to pursue new opportunities." Also departing AMD was Michel Cadieux, head of human
resources. Rivas and Cadieux join former CTO Phil Hester, who left last month, and ex-sales chief Henri Richard and visual media business chief Dave Orton, who both left late last summer.
The exec shake-up was accompanied by the creation of a new central engineering organization at AMD. The unit will be led by newcomer Chekib Akrout, formerly a vice president of design technology at Freescale Semiconductor Inc., and Jeff VerHeul, a vice president of design engineering at AMD. Both will report directly to AMD President and COO Dirk Meyer.
AMD has suffered losses in six straight quarters and in April announced layoffs of roughly 1,600 workers out of some 16,800 worldwide, to be completed by the end of the third quarter of this year. It wasn't clear whether Rivas' and Cadieux's departures would count toward that total. AMD has stated that Hester's exit was not part of the layoffs.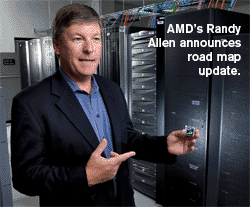 The head-count reduction has not impacted the chip maker's channel team, an AMD source told CRN, adding that downsizing at AMD's Sunnyvale, Calif., and Austin, Texas, headquarters was complete as of May.
AMD's strategy of trimming its way out of its struggles is historic, but the chip maker also has released a flurry of new products to kick off the year while finally rolling out its long-delayed quad-core Opteron parts in volume to OEMs and the channel.
Allen's road map update also included a brief on AMD's ramp of its quad-core server chips. The Opteron chips, formerly code-named Barcelona, have successfully undergone the B3 revision that addressed the TLB glitch that delayed volume shipments of AMD's first quad-core product late last year, he said in mid-May. AMD had more than enough supplies to meet demand from top OEM partners and its system builder channel, Allen added.
To prove it, AMD unveiled five new energy-efficient quad-core Opterons just days after Allen's briefing. The new chips sit in the 55-watt ACP thermal envelope, making them AMD's lowest power quad-core server processors to date. Dubbed Opteron HE (highly efficient) processors, three new chips are available in the 2300 series—model numbers 2344 HE, 2346 HE and 2347 HE—and two in the 8300 series—8346 HE and 8347 HE—for two-way, four-way and eight-way rack servers and blades, AMD said. AMD is touting the performance of the Opteron HE chips on energy-efficiency benchmarks like SPECfp_rate2006.
On the client side, AMD kicked off the second quarter with its first batch of triple-core Phenom chips (see page 14) and the debut of its first desktop platform aimed at commercial installations.
The commercial desktop platform, code-named Hardcastle, is part of the AMD Business Class initiative, which also will include commercial notebooks based on AMD's upcoming Puma mobile platform, projected for availability in the second quarter.