Printer-friendly version
Email this CRN article
#1: NWN Corp.
Grow Fast Or Flounder
and#149; By Craig Zarley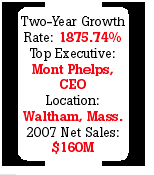 It's a great industry. It's a great time. There are opportunities everywhere."
That's the economic worldview from the president and CEO of the fastest-growing company on CRN's 2008 Fast Growth list: NWN Corp. In fact, Mont Phelps, CEO of NWN, a Waltham, Mass., solution provider that has seen its annual revenue skyrocket, sees fast growth as a necessity in today's IT market.
"People that work hard are going to do really well," Phelps said. "Those that are trying to stand still and tread water are going to have problems."
NWN has done anything but stand still during the past few years. After a string of acquisitions, NWN now fuels much of its growth organically through its expanded geographic footprint. In addition to New England, NWN has a strong presence in the mid-Atlantic states, as well as in Texas.
Phelps looks for strategic acquisitions that fit in with the company's formula for success, including a focus on unified communications, information security, data storage and disaster recovery, and enterprise computing. He notes that NWN has strategically aligned itself with Cisco Systems Inc., San Jose, Calif.; Hewlett-Packard Co., Palo Alto, Calif.; EMC Corp., Hopkinton, Mass.; and Microsoft Corp., Redmond, Wash., and looks to buy solution providers that are strong partners with at least one of those vendors. Once acquired, NWN then leverages its strength with the other key vendor partners to organically grow its business in the acquired company's accounts.
"And we focus on the midmarket, the best part of the market," Phelps explains. "It's harder to grow than enterprise, but there is more opportunity."
He cites the financial market as an example. "When someone paints the whole financial services field with a broad brush, they don't realize that the local banks never got into this subprime thing. They are all at record profitability."
The public sector, too, has been a bright spot for NWN. Phelps said the company just won a $2.5 million telephony contract with the city of Raleigh, N.C. "Public sector involves long-term planning, and they're not on the same business cycle as commercial accounts," he notes. "Public sector is spending the money."
While Phelps is still looking for acquisitions in order to become a national player, he said that organic growth so far this year remains strong. Product revenue is running roughly 10 percent ahead of last year's, while services revenue is up between 30 percent and 40 percent, he said.
But the bottom line for NWN is that its success is multifaceted. Said Phelps: "If you do just one thing well, that's not going to get you where you want to be."
Next: Acuity Solutions
#5: Acuity Solutions.
Spread Out And Take Off
and#149; By Craig Zarley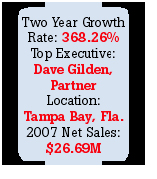 Selecting the right technology niche and then spreading business across an array of vertical markets keeps Acuity Solutions LLC, a Tampa, Fla., security and networking consulting firm, on a fast-growth path.
Dave Gilden, a partner in the solution provider that has seen growth of more than 368 percent during the past two years, said that the company's growth formula was no accident.
"We consciously set up our business trying to make it recession resistant by heavily investing in commercial enterprise, state and local government, and federal government," he said. "We are spread fairly evenly among those verticals."
From a technology standpoint, security is the cornerstone of Acuity Solutions' business. Using it as a springboard, the company has expanded its services to include network optimization and high-performance networking, as well as secure remote access.
Despite slowdowns in the housing and financial sectors, Gilden said he's seeing growth in federal government, health care and even retail.
With $26.7 million in 2007 revenue, Gilden said Acuity Solutions remains on track for substantial growth in 2008. "I think we'll see triple-digit growth this year," he said.
Next: B2B
#7: B2B.
Put In 10 Times the Effort
and#149; By Craig Zarley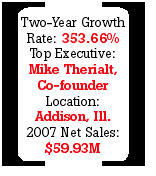 I wish we could say we had some new technology or services niche, but it's really just been working 15- to 16-hour days and making sure things get done," said Chris Kurpeikis, co-founder and vice president of sales at B2B Computer Products LLC, Addison, Ill.
B2B, the seventh fastest-growing solution provider on CRN's 2008 Fast Growth 100, with growth of nearly 354 percent during the past two years, does much more than simply sell products over the Web. Kurpeikis noted that the company also offers software licensing support services, serial number tracking and invoice tracking on its Web site. "We are only a $60 million company, but we operate as if we are a $600 million company," he said.
B2B sells more than just PCs, servers, switches and printers to its base of SMB customers. Its telephony and technology services unit installs phone systems, upgrades and installs servers and provides network infrastructure services.
To get to the next level, however, B2B, like many of the other Fast Growth companies, is looking beyond organic growth. "We are actively looking for acquisitions," Kurpeikis confirmed.
Next: RightStar
#8: RightStar.
Move Past Organic Growth
and#149; By Craig Zarley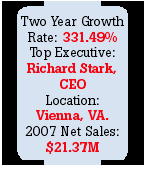 Organic growth propelled RightStar Systems to No. 8 on this year's CRN Fast Growth 100 list. But company President and CEO Dick Stark said he may look toward acquisitions to help fuel future growth.
"All of our growth to this point has been organic," Stark said of his 331 percent growth during the past two years. "If I were to try to maintain that level of growth, I think I would have to find another company or two."
And Stark said that Vienna, Va.-based RightStar, which specializes in service-desk management, is looking for possible acquisitions. But for now, the company relies on its strong relationship with BMC Software Inc., Houston, and a workforce heavily tilted toward the sales and marketing side for its growing success.
Of RightStar's 40 employees, eight are business development salespeople, two are internal salespeople and one is a full-time marketing person, Stark explained.
"We are very front-end loaded when it comes to the sales and marketing side, and that's helped," he noted. "We do seminars, Webinars, telemarketing, user groups, a newsletter and anything we can think of for ways to differentiate ourselves."
Printer-friendly version
Email this CRN article