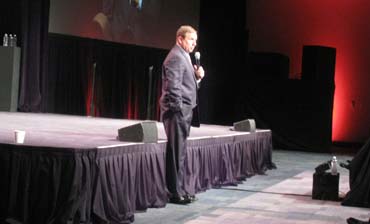 Mark Hurd
Oracle is all-in when it comes to big data with a full range of software and engineered systems that together allow customers who have no big data skills to take advantage of the technology.
That's the message from Oracle executives during Monday morning keynotes at the Oracle OpenWorld conference, held this week in San Francisco.
Oracle President Mark Hurd started the Monday big data keynote with nearly the same message he presented to channel and technology partners on Sunday, noting that the 9 billion devices connected to the Internet will grow to 50 billion by 2020.
[Related: Oracle OpenWorld: Ellison Touts New In-Memory Database Technology]
Meanwhile, the average legacy application today is about 19 years old, built pre-Internet and pre-mobile phone, Hurd said. "[We] built this pre-everything we do today," he said.
On the average, business customers are seeing their data grow 40 percent per year, Hurd said. And, on the average, they're spending $7,500 to $9,000 per terabyte to manage that data. For a bank with 1,000 TBs of data, that means an annual cost of $700 million to handle that management.
Hurd said there has to be a better way to manage that data. "At the core, that's what we're focused on," he said. "The efficiency message. The innovation message."
Thomas Kurian, executive vice president of product development, said during his Monday keynote that big data is now a key driver of IT.
"You have to have a very capable infrastructure to drive the volume [of data], to store it and process it," Kurian said.
Oracle's current IT solutions can help nearly every customer manage big data, regardless of whether it is from structured or unstructured data, and regardless of whether customers have experience with such big data-centered applications as Hadoop, Kurian said.
Kurian was not kidding, said Wade Nicolas, CEO of Enkitec, an Irvine, Texas-based solution provider and Oracle partner.
"Oracle is absolutely viable as a big data partner," Nicolas said. "Up to 70 percent of a business' data is tied to Oracle. Oracle is around the Hadoop world. So there's absolutely a tie-in."
Even so, Nicolas said, the IT industry is still in the early adoption phase.
"But it's maturing rapidly," he said. "We have seen companies tracking everything users do: travel companies analyzing what pushes customers in certain ways, banks looking at fraud detection."
NEXT: Big Data Not Yet Mature, Needs Enterprise Vendor Help
Nicolas said there are more big data opportunities in customers' existing data stores than they realize.
"Many customers are exploring big data, and asking questions," he said. 'We're seeing a lot more data that can be repurposed. For example, data from security cameras can be repurposed with face recognition software. And that becomes big data."
Alexander Gorbachev, CTO of Pythian, an Ottawa, Ontario-based provider of professional and managed services for database and big data clients, said that Hadoop and big data, in general, is still an immature technology.
"Hadoop is new, so it's hard to work with," Gorbachev said. "There are few people with the right skills, so it's more of a do-it-yourself project. It's like SQL was 10 years ago. So many companies are trying to help simplify it."
Oracle is one of several companies providing the tools to simplify Hadoop by partnering with Cloudera to help with deployment, monitoring and other big data tasks, Gorbachev said.
"Oracle then adds additional connections unique to Oracle," he said. "So in heterogeneous environments, someone still needs to do the integration."
Oracle also provides the ability to use Hadoop data if it is an Oracle database, which is different from actually adopting a database application to talk to Hadoop, Gorbachev said.
Currently, few customers have the resources to manage Hadoop, leaving it up to enterprise vendors to find a way to simplify the technology for customers, Gorbachev said.
"Yahoo can afford to have their own resources," he said. "Others depend on their enterprise vendors. Teradata and Microsoft work with Hortonworks, while EMC has Greenplum and works with Pivotal.
These enterprise vendors, however, see Hadoop as a long-term threat, Gorbachev said. "So they will adjust their strategy about how to be relevant in 10 years," he said. "In the long term, as Hadoop matures, they will have to adjust their strategy."
Rhos Dyke, executive vice president at Cloud Creek Systems, a Westlake Village, Calif.-based solution provider and longtime Oracle partner, said that Oracle is indeed moving to embrace big data in a big way.
"Thomas Kurian is the smartest man on the planet," Dyke said. "If he says Oracle is providing a complete big data solution, it probably is true. Oracle has worked hard to make sure no product category is uncovered."
NEXT: Oracle Plays Big Data Role, Still Much To Do
Because of the sheer amount of data, along with the difficulties of collecting and analyzing it, Oracle playing a major role in this market makes sense, Dyke said. However, he said, there are a lot of alternatives, and it is important to see how they differ.
"Oracle sometimes makes announcements in a vacuum," he said. "I'd like to see Thomas [Kurian] show how Oracle compares with what others do. It would help me validate what Thomas says, and let me see if this is a big deal or not."
Dyke said it is important that Oracle starts making clear comparisons between its big data offerings and those of its competitors.
"Don't just show me in and of itself," he said. "If I buy a car, don't just tell me how good the car is. I want to drive it, and go across the street and try another."
For Oracle OpenWorld, Kurian stayed focused on the Oracle message.
Kurian said Oracle solutions handle both structured data through its database and analytics technologies, and unstructured data either directly or by transforming it into structured data.
Customers with experience with structured data but not unstructured data can analyze their unstructured data in four different ways with Oracle technology, Kurian said.
First, they can run software like Hadoop together with MapReduce.
Second, he said, they can stream data from Hadoop to the Oracle SQL engine where it can be handled using standard SQL commands. "This opens Hadoop to everyone who knows SQL," he said.
Customers also can use the Oracle R application for statistical analysis of big data, or use the Oracle Business Intelligence Foundation to do search and discovery on the data, he said.
In addition, customers can use Oracle's engineered systems to improve Hadoop performance, Kurian said. For instance, the company's Big Data Appliance combines its Exadata database system with Hadoop to provide high-performance Hadoop processing with quick deployment and a fast 15 TBs-per-hour loading of Hadoop data to Oracle, he said.
Customers also can run SQL or R in the Exadata system, Kurian said. "These are two important ways to open the big data in your infrastructure with the tools you are already familiar with," he said.
PUBLISHED ON SEPT. 24, 2013