Crafting a program for solution providers may take years
Printer-friendly version
Email this CRN article
After years of talking about tackling the professional services market, Ingram Micro is now doing something about creating a new professional services program. But executives admit it may be years before a comprehensive program is in place.
Justin Crotty, senior director of channel development at Ingram Micro, said executives have been meeting internally on a plan that will lay out the distributor's services goals for 2002 and beyond. Crotty will serve as director of the new program.
Crotty said professional services are necessary to help solution providers "combat the brutal threat" of vendors' direct efforts. "Until it became a decision of survival, those decisions [to create a services program were delayed," he said.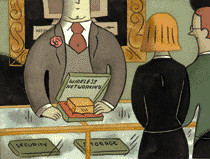 Ingram Micro's vision: Provide solution providers with high-end services in the storage, security and wireless arenas.
Although Ingram Micro executives are unsure exactly what form the new professional services model will take, they said one thing is key: The distributor must find a way to leverage the existing customer base to successfully deliver services.
"The bottom line is there hasn't been a viable program there that we put a lot of effort into," Crotty said.
Tech Data wants a share of the services market as well. The distributor unveiled its Networking Services Organization (NSO) last year. NSO is taking aim at high-end networking distributors such as Westcon Group's Comstor.
NSO has combined systems engineers with networking vendor representatives and the distributor's own sales reps into a group that helps solution providers move into the higher-end networking space. About 500 solution providers participate in NSO, Tech Data executives said.
Ingram Micro has not been receiving requests from solution providers to offer professional services but is getting calls to facilitate service requests, said Bob Stegner, vice president of channel development at Ingram Micro.
The distributor is looking at a few options, including using its existing structure and partners, creating a new services group, or outsourcing professional services on behalf of partners. Ingram Micro could reconstruct the Ingram Systems Group to take on professional services or even "potentially productize" its National Services Network (NSN) to offer high-end SKUed services, Crotty said. "I don't know the viability of it, but it's something we're looking at."
Ingram Micro's broader vision reaches beyond the low-end and break-fix services currently offered by NSN and is built around high-end services in technologies such as storage, complex networking, project management, wireless and security, Crotty said.
The distributor likes that NSN has national coverage and its members already perform end-user services, Crotty said. But service provider expertise varies, and training on high-end services is expensive, he said. Still, the opportunity is there.
And despite the slow economy and sluggish hardware sales, service providers have been keeping busy. "We're still getting a lot of service calls. There's a lot of activity," said Mike Semel, owner of Chemung Computer and an Ingram Micro NSN advisory council member.
Although Ingram Micro supports Chemung, Elmira Heights, N.Y., with lots of services and resources, this is the one area where the distributor actually sends the company business because service calls equate to actual dollars, he said.
To get further input from solution providers, Ingram Micro is working with members of the NSN and VentureTech Network advisory councils.
One option that won't be considered is using Ingram Micro employees to perform services for end users, Crotty said. Ingram Micro's role would be as facilitator of services by leveraging its infrastructure, such as call center, call management teams and sales teams, he said.
The key will be to assist Ingram Micro customers to gain knowledge in vertical markets to deliver services themselves or on behalf of another solution provider, he said.
Printer-friendly version
Email this CRN article