This Week's Subject: Network Hardware
Printer-friendly version
Email this CRN article
While expectations remain guarded for overall networking hardware sales in the first quarter, solution providers see wireless LANs as a bright spot in this category, according to the CRN monthly solution provider survey.
Starting last month, CRN began drilling down more deeply into product categories,such as storage, security and networking hardware,to get a better idea of solution providers' sales expectations.
Thirty-nine percent of solution providers polled last month said they expect overall networking hardware sales growth of at least 6 percent in the first quarter of this year. While on par with survey data from the previous three months, this figure remains well below the 63 percent figure from the December 2000 survey.
But solution providers have higher hopes for wireless LAN product sales. Fifty-five percent of those solution providers surveyed in December said they were expecting sales growth of at least 6 percent in this quarter. This is well above the figures for the other three networking hardware categories surveyed,routers, switches and networking hardware appliances.
The figures are not surprising, given the results from other CRN research projects. More than one-third of solution provider respondents to the CRN Certification Study said they were already specializing in the wireless area, and one-third of those that were not said they were planning to start by the end of the first half of this year.
In addition, 9 percent of the solution providers surveyed for the CRN Solution Provider Business Model Study said that wireless was already among the top three most profitable areas of specialization, ranking wireless near the top in newer, up-and-coming technologies.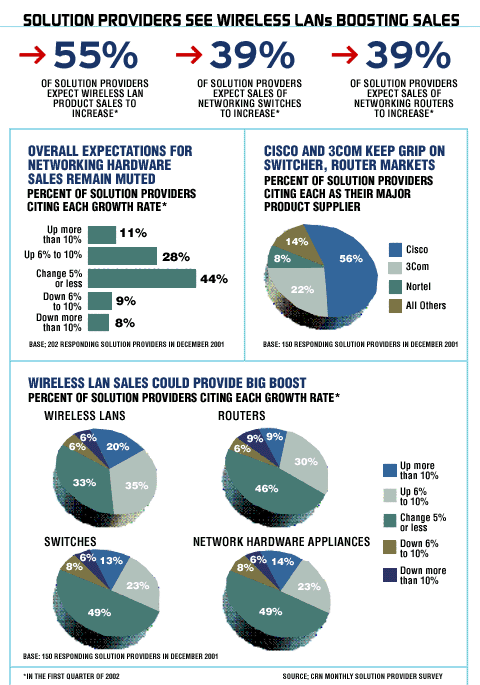 Printer-friendly version
Email this CRN article