Research In Motion (RIM) is kicking off Spring Comdex in Chicago with its latest Blackberry Wireless Handheld. The Java-based Blackberry 5810 includes an integrated phone for GSM/GPRS networks in North America.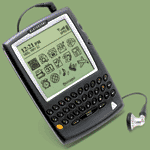 BLACKBERRY GETS VOCAL
Following on the heels of its success in the PDA market, Research In Motion last week introduced a new BlackBerry handheld unit that offers voice, data and e-mail functionality. The BlackBerry 5810 raises opportunities for solution providers moving into mobile applications.
This latest addition to the Blackberry line of wireless handhelds will enable corporate customers to manage all of their information and communications from a single, integrated handheld, the company said.
The Blackberry 5810 also marks the first time that a RIM offering will use Java as the core operating system. The Java OS will provide a secure, manageable and open platform for customers, carriers and developers, RIM said. RIM plans to launch its Blackberry Java Development Environment at JavaOne in late March.
The Blackberry 5810 will be available through VoiceStream and AT&T Wireless. VoiceStream will be offering the 5810 at $499 and a data/voice combination plan at $39.99 per month. AT&T Wireless is expected to announce competitive pricing soon.
The introduction of the Blackberry 5810 is expected to be part of a Comdex keynote address that will be presented by RIM co-CEO Jim Balsillie on Tuesday.