GSA agent program opens door to $40 billion market
Printer-friendly version
Email this CRN article
Westcon Inc. has launched a GSA agent program that gives solution providers an opportunity to sell to government customers they might not otherwise be able to reach themselves.
Tarrytown-based Westcon, a subsidiary of distributor Westcon Group that specializes in Nortel Networks equipment, will maintain the schedule and provide contract management on behalf of solution providers.
The GSA, or General Services Administration, was established in 1949 to centralize federal government purchasing and to cut costs through predetermined pricing.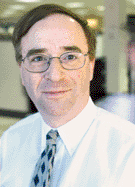 Stuart Schwartzreich says Westcon will handle negotiations with the government and ensure the accounts are profitable for partners.
Westcon will handle the negotiations with the federal government. "The federal government wants the best price, but we have to make sure [it is profitable for the reseller to participate in those arrangements," said Stuart Schwartzreich, director of strategic accounts at Westcon.
Westcon will update the GSA contracts monthly with price and product changes, he said.
"We take care of all that work. The reseller partner has an opportunity, and the price is fixed," he said. "There's enough margin for the reseller to be successful. The government may take a while to pay, but they won't go out of business. If you were selling into Enron, you're stuck."
Westcon's program, part of its Federal Edge initiative, includes products from Nortel and Check Point Software Technologies. The distributor expects to add more vendors throughout the year, Schwartzreich said.
Westcon Group previously sold only to customers that had their own GSA schedules.
"This gives you another tool. The [federal business is so competitive, this helps level the playing field. It gives everybody the same opportunity," said John Spiridigliozzi, product marketing director at CableExpress Technologies, Syracuse, N.Y. "If you want to get into the government space, it takes a sizable investment. Agent programs help VARs leverage the strength of a Comstor or a Westcon."
The federal IT opportunity is $40 billion this year, and about 40 percent of federal purchasing is procured via a GSA schedule, compared to about 10 percent six years ago, Schwartzreich said.
"The federal government has had to spend more on IT products on a regular basis because of new initiatives and upgrades. The [Federal Aviation Administration was running 1960s mainframe technology. They needed to spend billions to upgrade," he said. "And to be a successful player, [solution providers need a successful GSA strategy."
Many solution providers are turning to the federal government market as prospects in the commercial sector continue to dry up.
"The opportunity in the federal space is just as robust as it has ever been as the government continues to better manage their needs. They're not just running out and buying stuff, but they're not not buying either," Spiridigliozzi said.
The federal government looks to buy through the channel as a means to help small companies, Schwartzreich said. An agent program leverages that opportunity, he said.
"To be successful, you need the best contract vehicle out there. Many resellers have been shut out of doing that business because they couldn't get a contract vehicle like a GSA schedule," he said.
The agent program also should help solution providers find state and local government opportunities, Schwartzreich said.
For example, if a California municipality is looking for a firewall, Check Point customers that do not have a California Master Acquisition Schedule would be shut out, Schwartzreich said. But many states make exceptions if the solution provider has a GSA schedule, he said.
Printer-friendly version
Email this CRN article