Hosted IP telephony offered in bundled deals
Printer-friendly version
Email this CRN article
Small businesses looking for a fully featured voice network often face sticker shock at the initial investment required for a PBX and the phones. But a start-up service provider aims to change that.
CallTower, based here, is offering SMBs hosted IP telephony in bundled packages priced on a per-seat, per-month basis, said Rob Bolt, senior vice president of marketing for the service provider.
The start-up's service bundles include dial tone, local and long-distance calls, Internet connectivity and all the equipment needed to make it happen, "right down to the phone on the desk," Bolt said. To offer the service, CallTower built its own data center with Cisco Systems' IP telephony gear.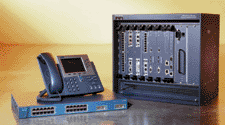 CallTower's Cisco IP telephony bundle averages $85 per month, per employee but varies depending on the features selected.
In a typical customer installation, CallTower installs a router, a switch and the IP phones at the customer premises, which are connected to CallTower's data center via a T1, Bolt said. With Cisco's IP telephony gear designed for the multitenant space, the individual businesses share the hardware, making it feasible to provide the service, Bolt said.
The average customer pays about $85 per month, per employee, but the price varies based on the features customers select. One of the features available is unified messaging, which provides e-mail, voice mail and faxes in one inbox, he said.
Bolt said the service provider initially is focusing on the San Francisco Bay area but plans to cover more territory in the third quarter. Operational since the end of December, CallTower has 18 clients using the service now, he added.
CallTower's service allowed San Francisco-based Telekenex to take advantage of telephony features it couldn't justify paying for on its own, said Rob Lamb, vice president of sales and marketing for the company. Telekenex, which resells voice, data, videoconferencing and storage services to SMBs, looked into purchasing a PBX for its nine-person office, Lamb said.
"Unless you have 25 or 30 people, the cost is hard to justify," he said. "The PBX that you could buy for a nine-person organization wouldn't have any of the functionality we have."
Telekenex opted for CallTower's unified messaging service, which adds a hosted Microsoft Exchange server. That allows Telekenex employees to access both voice mail and e-mail through their Cisco IP phones, Lamb said. "This is very cool stuff," he said. "They have taken interesting technology and created a business solution."
Also, Lamb said, it allowed the company to avoid heavy start-up costs. "With the service, we were able to eliminate the need for both a PBX and an
e-mail server."
For San Francisco-based Fort Point Partners, using CallTower's service is a way to try out IP telephony without much investment, said Sean Alberts, director of IT for the e-business solution provider. Prior to moving to CallTower's service in March, Fort Point had a leased a PBX, but the lease was ending.
"It was time to make a decision," Alberts said. "We tested other systems, and found the Cisco system to be the most stable and the most reliable," he said. "But we wanted the flexibility to change if it turned out that it's not what we want or need. As a service, it saves us manpower and resources and allows us to evaluate IP telephony."
Alberts said Fort Point is using about 75 IP phones in its San Francisco office, and will likely roll the service out to its New York office next. He added that he especially likes the fact that traveling Fort Point employees can check e-mail and voice mail through a Web browser.
Most small businesses don't care whether the system is IP-based, but they are impressed with what it can offer them, Bolt said.
"You mention IP telephony to your typical SMB manager and his eyes glaze over," he said. "But tell him about all the features he can get with no up-front investment, and he wakes up."
Printer-friendly version
Email this CRN article