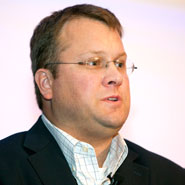 Todd Croteau
The managed services market will experience a major shakeout by 2013, according to one leading MSP.
Todd Croteau, the CEO of All Covered, a national Managed Service Provider (MSP) serving small businesses, Thursday told an audience of solution providers at CRN's Fast Growth awards event that he sees a huge decline in the once-booming MSP market.
Specifically, Croteau predicted that the number of MSPs will drop from 10,000 in the U.S. to 6,500 over the next three years. And that doesn't include what All Covered views as "trunk slammers" -- one or two man shops with little technology expertise competing in the crowded MSP market. "The shakeout is just starting in our space," he says.
The MSP shake-out comes with Croteau predicting there will be little change over the next three years in the bleak economic conditions that are hindering small businesses. "The economy we are seeing right now is not going to change a lot over the next three years," he said. "There are not a lot of jobs being created."
Croteau was featured in a luncheon fireside chat hosted by CRN Managing Editor Online Rob Wright on "Surviving the Great Recession In One Piece." The session also featured Doug Ford, former founder and CEO of I.T. Pros, which was acquired by All Covered in May. The session was based on an in-depth look at the financial pressures facing solution providers in the September CRN issue called "When Fast Growth Is Not Enough."
Next: Dealing With The Economic DownturnFord, who headed a once-thriving MSP, saw the fortunes of his company change with the economic downturn of 2008 just as he was moving to provide customers with new cloud services. By 2009, Ford realized the economic downturn was going to be prolonged and started looking for additional capital.
"In late 2009, All Covered knocked on our door and we kind of hit it off on the very first phone call," said Ford. That led to the deal to sell the company to All Covered.
Those kinds of deals are nothing new for All Covered, which does about $55 million in annual managed services sales primarily from small businesses with 30 to 100 employees. The company has acquired 16 solution providers -- most of them MSPs --over the last 18 months and plans to acquire as many as 50 MSPs over the next three years.
Croteau said he sees the average acquisition deal bringing All Covered $2 million in annual services revenue with about 30-50 customers and 1,500 desktops being managed.
Next: Dealing With The Economic DownturnThe All Covered acquisition frenzy brings Croteau throughout the country meeting with MSPs. Croteau figures he will meet with about 500 MSPs in a year with about 33 percent of them ailing financially with a debt to revenue ratio of some 25 to 50 percent debt. That means a $1 million MSP would have anywhere from $250,000 to $500,000 in debt.
What's more, Croteau said, not a single MSP he has met with over the years measures their business by net profit per client. "I haven't met an MSP yet that looks at profit at the client level," he said. "That shows how immature the MSP business is. These companies are excited about the revenue, but they aren't look at what is the cost of that revenue."
Croteau's message to MSPs is to focus on recurring revenue with long-term contracts, which will make MSPs much more valuable in the eyes of potential buyers like All Covered. The All Covered valuations of potential acquisitions is based on the retention of those MSP contracts acquired by the company.
Surprisingly, Croteau said All Covered's MSP contract retention rate is higher with acquired companies than with organic MSP growth. That's because clients acquired through organic growth have no experience with the MSP model, he said, while clients acquired through acquisition are familiar with managed services.
As for Ford, he says he is glad that he sold the business and would do it again. Ford said he sometimes misses that feeling of running his own company, but at the same time it's nice to not have the sole responsibility for moving the business forward. "It's nice to not have those concerns so you can sleep at night," he said. "I have weekends now and I coach. I have a quality of life I didn't have before."