Page 1 of 4

It's been 10 years since the Sept. 11, 2001, terrorist attacks, a period that seems like it was both yesterday and long ago for many New Yorkers.
Every day in the city there are reminders of the tragedy – "In Memoriam" car window stickers, the rising Freedom Tower near Ground Zero, and the birthdays and anniversaries of friends and family members never celebrated the same way for the 2,000-plus people who died that day.
Here are the stories of three New York solution providers and how those tragic events saw their lives and their businesses change forever.
eMazzanti
Carl Mazzanti was in the subway beneath the World Trade Center's north tower when the first plane hit, more than 90 floors above.
Mazzanti and his then-business partner and now-wife Jennifer Shine were set to attend a product meeting with Quantum and Ingram Micro on the 78th floor of the north tower. Of course, they never made it. After the plane hit, the pair quickly left the building amid falling debris and made their way north, not yet able to understand what had happened.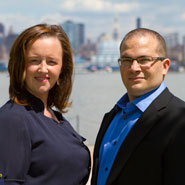 Jennifer and Carl Mazzanti
Mazzanti and Shine had opened their solution provider business, eMazzanti, less than two weeks before September 11, ensuring that the company's history will always be tied to the attacks .
"We started with a handful of customers and wild dreams of great grandeur. That day, all that changed," said Mazzanti. "We continued and are doing great. We're holding our 10th anniversary party on Sept. 15. But it seems like a long time ago.
"When the first plane hit, some alarms went off. I couldn't believe how many security people all ran up the escalators. Everyone was trying to figure out what was happening. When we walked outside we saw a bus crushed, a New York City bus just flattened. Jennifer noticed there were no people at the moment to our left. She said we have to go the other way. She had noticed debris still falling in that area. On the other corner, people were mingling around. That's the way we ran."
Shine went to the office of one new client, while Mazzanti made his way north to another client just coming to prominence -- Kate Spade, which at the time had less than 15 employees, Mazzanti said, and is still a client 10 years later.
"I was in Tribeca when the second tower went. The building where we were was brick and at the desk a red mist filled the area. We lost lights and the Internet. I remember finally getting back into Hoboken and having washing stations to rinse off your body. It was like a hazmat station and you could tell people who were close to the [towers] because their hair was covered with concrete," he said.
Thrust into the worst possible circumstances, Mazzanti said he learned overnight that customers responded to value and the ability to solve their problems. That soon became the company's philosophy and it made them strong during a difficult time.