Page 6 of 11

No. 6: CIBER
David Peterschmidt, CEO
Obermatt/CRN Pay-For-Performance Index: 228 percent excess pay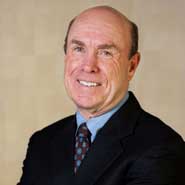 David Peterschmidt
In 2011, Ciber reported a loss of $67.3 million with its shares dropping 17 percent for the year. Just the same, Ciber CEO David Peterschmidt's total compensation increased 16 percent to $3.0 million.
It's that kind of pay-for-performance that puts Ciber sixth on the list of having the most overpaid CEOs, according to the Obermatt/CRN Pay-For-Performance Index. Ciber's CEO position accounted for 228 percent in excess pay over the period from 2009 to 2011, according to the index. Ciber executives did not return several emails or phone calls seeking comment for this article.
The hike in 2011 total compensation came after Peterschmidt received total compensation in 2010 of $2.6 million including a $300,000 bonus for only six months as CEO. Peterschmidt also received 400,000 restricted stock units in June 2011 based upon what the company's compensation committee called a "review of market data and Peer Group equity compensation for similar positions."
Peterschmidt's increased compensation came as Ciber's shares fell from $4.68 on Dec. 31, 2010, to $3.86 on Dec. 30, 2011.
The company showed some bottom-line improvement in 2011, with a loss of $67.3 million compared to a $77.2 million loss in 2010. Also, in Peterschmidt's favor, the company's sales for 2011 increased to $976.9 million compared with $953.8 million in 2010.
In a statement last February after Ciber announced its annual 2011 results, Peterschmidt maintained that the company has made "measured progress" in a "turnaround" period.
"The significant actions we have taken, including stabilizing North America, lowering our risk profile, agreeing to sell our Federal business and improving delivery quality, have come about by the changes we have made on several fronts including strengthening our leadership and overhauling our operations," he said in a statement. "We do, however, understand the importance of delivering improved operating profits and cash flows and remain confident that we will achieve these goals as we move through 2012."
Meanwhile, Peterschmidt's predecessor, former Ciber CFO and interim CEO Peter Cheesbrough, who joined the company as executive vice president and CFO in 2007 and left the company in April 2011, received $1.29 million in total compensation in 2011, up from $942,079 in 2010 and $520,187 in 2010.
Ciber paid Cheesbrough, who became interim CEO and president for just 10 weeks in 2010, upon his departure as a director of the company on April 29, 2011, "a lump sum payment of $684,000, which is an amount equal to his annual base salary ($360,000), plus his annual target cash incentive ($324,000 -- 90 percent of his base salary)." In addition, Ciber accelerated the vesting of 29,280 stock options and 89,760 restricted stock units for Cheesbrough.
NEXT: TeleCommunications Systems

<< Previous | 1 | 2 | 3 | 4 | 5 | 6 | 7 | 8 | 9 | 10 | 11 | Next >>