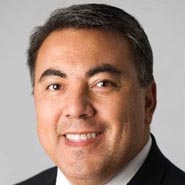 Braulio Castillo
Strong Castle, a government IT solution provider, was blasted this week by Congress for alleged fraud related to more than $500 million in potential IRS contracts.
The U.S. House of Representatives Committee on Oversight and Government Reform this week issued a scathing report about Washington, D.C.-based Strong Castle's business with the IRS that questions the solution provider's status as a service-disabled, veteran-owned small business.
Congressional hearings on the allegations against Strong Castle included a verbal lashing by U.S. Rep. Tammy Duckworth (D-Ill.), a veteran of the Iraq war who lost both legs when her helicopter was hit in battle, against Strong Castle President and CEO Braulio Castillo, who said he was an injured veteran.
Neither Castillo nor any other personnel from Strong Castle responded to requests for further information.
[Related: SAIC To Pay $500 Million In New York CityTime Fraud Scandal]
In its 157-page Questionable Acquisitions: Problematic IT Contracting at the IRS report on its investigation of Strong Castle, the U.S. House of Representatives Committee on Oversight and Government Reform alleged that Strong Castle engaged in fraud to get IRS IT contracts potentially worth more than $500 million.
The committee also alleged in its report that a close relationship between Castillo and IRS Deputy Director for IT Acquisition Greg Roseman "may have influenced the selection process."
Strong Castle was founded in early 2012 when Castillo and his wife acquired government solution provider Signet Computers.
The committee alleged the IRS "single-handedly helped Strong Castle grow from a business with $250,000 in annual revenue to one that won over $500 million of potential awards in just six months" due to the close relationship between Roseman and Castillo and to a lack of "proper training on government ethics guidelines."
The committee listed among its findings several instances of alleged fraud on the part of Castillo and Strong Castle it said helped that company win the IRS contracts.
Strong Castle was certified by the U.S. Department of Veterans Affairs as a service-disabled business based on an injury Castillo said he received while on active duty in the military.
Castillo testified to the committee that his injury happened during an orienteering session.
However, the committee reported, that injury was actually suffered in 1984 while playing football at the U.S. Military Academy Preparatory School. Castillo would go on to play football for San Diego City College, and did not apply for a service-disabled designation until a few months before he acquired Signet Computers, according to the committee report.
NEXT: Alleged HUBZone Certification Fraud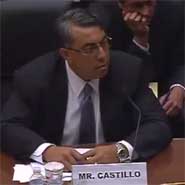 Braulio Castillo under questioning from Tammy Duckworth
The committee also alleged that Strong Castle rented an office in the Chinatown district of Washington, D.C., and called it the company's principal location in order to get certified as a Historically Underutilized Business Zone (HUBZone) firm.
To maintain the HUBZone certification, which required a certain number of employees live within that HUBZone area, Strong Castle allegedly hired several students from Catholic University, the committee reported. However, the Small Business Administration eventually decertified Strong Castle because "Strong Castle misrepresented its total number of employees," the committee reported.
The decertification process began based on a protest of Strong Castle's HUBZone certification by two other solution providers, the Washington Business Journal reported.
Castillo's friendship with Roseman since 2003 was key to Strong Castle's ability to sign IT contracts with the IRS, the committee reported.
Roseman allegedly helped Strong Castle receive its GSA Schedule 70 contract in "record time," making it possible for Strong Castle within six months to win IRS contracts worth more than $500 million despite the fact that Signet Computers previously had annual revenue of only about $250,000, the committee reported.
The committee report and ongoing investigation led to a round of questioning, viewable on YouTube, of Castillo by Rep. Duckworth, who accused him of gaming the system by taking advantage of a foot injury from nearly 30 years ago to support his company's certification as a service-disabled veteran.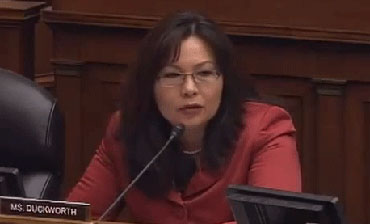 Click to watch the video on Youtube.
Duckworth said she wants to support small businesses. "But I am absolutely appalled at the advantages that have been taken of this system," she said.
Duckworth noted that, while Castillo received a 30 percent disability rating from Veteran Affairs for his ankle injury, she herself received only a 20 percent disability for her right arm, which was severed in combat in Iraq and then reattached, and which even now has no feeling and could still be lost one day.
"Shame on you," she said. "You may not have broken any law. We're not sure yet. You did misrepresent to the SBA. But you certainly broke the trust of this great nation. You broke the trust of veterans."
However, Castillo, in his opening statement in response to the committee's report, wrote that his company worked closely with the Department of Veterans Affairs and the Small Business Administration to get qualified as a service-disabled veteran-owned small-business concern and a HUBZone small-business concern. Those certifications were important because of an IRS focus on awarding contracts to small businesses, he wrote.
NEXT: Castillo Fights Back
Castillo also addressed certain issues brought up by the committee.
While the committee said Strong Castle received $500 million in IRS contracts, in reality the company received only $50 million in contracts, of which $49 million went to suppliers and $1 million went to Strong Castle, Castillo wrote.
"Last year, Strong Castle lost approximately $138,000. Strong Castle's losses this year will be even greater due in part to the costs of defending the GAO protests and cooperating with this investigation," he wrote.
Castillo said that, contrary to accusations by the committee that Strong Castle did not have the right experience or performance record for government contracts, Signet Computers in fact had a 15-year record of government work while he himself worked on government contracts via his past employers.
He also wrote that Strong Castle never received preferential treatment from the IRS, and that all actions related to gaining HUBZone status were taken in consultation with the Small Business Administration.
"Unfortunately, other companies are able to use status challenges as competitive weapons in their efforts to overturn contract award decisions made by agencies pursuant to formal procurement procedures. In this case, Strong Castle has already spent hundreds of thousands of dollars to defend itself in a politically charged environment," he wrote.
The problem of solution providers gaining access to government contracts via questionable certifications for service-disabled, minority-owned or woman-owned, are actually widespread, said one government solution provider, who asked to remain anonymous.
"One guy a few years ago was going around asking solution providers for an up-front fee to help them bid on government jobs," the solution provider said. "He said he would be the prime on the contract for a percentage of the deal. He claimed to be service-disabled. But he was hurt in a track-and-field competition, running hurdles. What do hurdles have to do with military service? Nothing."
There are legitimate service-disabled solution providers, some of whom suffer from injuries which, unlike losing a leg or arm, cannot be seen physically, that solution provider said.
"But if I were to put out an ad saying I needed a disabled vet firm to help on a job, I'd get a lot of scum responding," the solution provider said.
Government agencies are a big part of the problem. "The government does a lot of rubber-stamping to show they have the numbers," the solution provider said. "The reality is, there are a lot of service-disabled, woman-owned and small-business companies out there who are not legitimate."
PUBLISHED JUNE 28, 2013