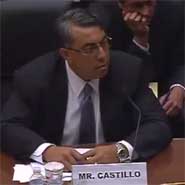 Braulio Castillo under questioning from Tammy Duckworth
The committee also alleged that Strong Castle rented an office in the Chinatown district of Washington, D.C., and called it the company's principal location in order to get certified as a Historically Underutilized Business Zone (HUBZone) firm.
To maintain the HUBZone certification, which required a certain number of employees live within that HUBZone area, Strong Castle allegedly hired several students from Catholic University, the committee reported. However, the Small Business Administration eventually decertified Strong Castle because "Strong Castle misrepresented its total number of employees," the committee reported.
The decertification process began based on a protest of Strong Castle's HUBZone certification by two other solution providers, the Washington Business Journal reported.
Castillo's friendship with Roseman since 2003 was key to Strong Castle's ability to sign IT contracts with the IRS, the committee reported.
Roseman allegedly helped Strong Castle receive its GSA Schedule 70 contract in "record time," making it possible for Strong Castle within six months to win IRS contracts worth more than $500 million despite the fact that Signet Computers previously had annual revenue of only about $250,000, the committee reported.
The committee report and ongoing investigation led to a round of questioning, viewable on YouTube, of Castillo by Rep. Duckworth, who accused him of gaming the system by taking advantage of a foot injury from nearly 30 years ago to support his company's certification as a service-disabled veteran.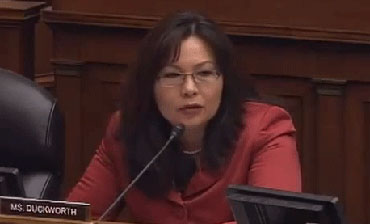 Click to watch the video on Youtube.
Duckworth said she wants to support small businesses. "But I am absolutely appalled at the advantages that have been taken of this system," she said.
Duckworth noted that, while Castillo received a 30 percent disability rating from Veteran Affairs for his ankle injury, she herself received only a 20 percent disability for her right arm, which was severed in combat in Iraq and then reattached, and which even now has no feeling and could still be lost one day.
"Shame on you," she said. "You may not have broken any law. We're not sure yet. You did misrepresent to the SBA. But you certainly broke the trust of this great nation. You broke the trust of veterans."
However, Castillo, in his opening statement in response to the committee's report, wrote that his company worked closely with the Department of Veterans Affairs and the Small Business Administration to get qualified as a service-disabled veteran-owned small-business concern and a HUBZone small-business concern. Those certifications were important because of an IRS focus on awarding contracts to small businesses, he wrote.
NEXT: Castillo Fights Back