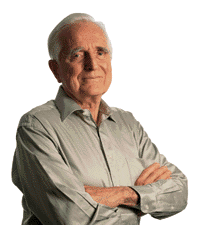 Douglas Engelbart
Douglas Engelbart, the inventor of the computer mouse and one of the key people behind the development of what would become the Internet, has died at the age of 88.
Portland, Ore., native Engelbart died in his Atherton, Calif., home Tuesday of kidney failure, according to the New York Times.
In addition to the invention of the computer mouse, Engelbart is also credited with developing and nurturing many of the technologies computer users today take for granted.
[Related: Douglas Engelbart: Father Of Interactivity]
Lotus Notes creator Ray Ozzie told CRN in 2001 that Engelbart's work was "fundamental to the industry."
"The mouse, graphical editing and windowing, object addressing and linking, and thus hypermedia, outline processing, version control, teleconferencing and remote meetings, distributed client/server computing and many other things that are quite common today are direct descendants of work that he pioneered," Ozzie said.
Many of those technologies were first shown in December of 1968 at the civic auditorium in downtown San Francisco when Engelbart took the stage during the 1968 Fall Joint Computing Conference.
During his presentation, which even today is often referred to as "the mother of all demos," Engelbart sat below a large video screen that showed both his face as he spoke and his hands as they entered commands into an off-site computer system located about 30 miles away at his Menlo Park, Calif., lab. Communication with the system was via some microwave towers, television channels rented from the local phone company, and a homemade modem.
One of the devices Engelbart used to input commands was what he called a "mouse," which looked like a small plastic box on wheels.
That demo, which included an early graphical user interface (GUI) and technologies related to linking and online collaboration, could easily have backfired, causing the dismissal of Engelbart and his at-the-time unpopular ideas, Engelbart told CRN in 2001.
"We stuck our necks out like you wouldn't believe," he said.
But after his 90-minute demonstration, Engelbart was surprised when the audience gave him a standing ovation. "My jaw dropped because everybody was standing up applauding," he said.
That kind of apprehension over whether the idea of manipulating a screen with a mouse was no surprise to John Zammett, president of HorizonTek, a Huntington, N.Y.-based solution provider.
NEXT: Here's What's Coming On The Next PageHorizonTek's Zammett, who prior to entering the IT market was an air traffic controller where he used roller balls to manage data, first used a mouse in the early 1990s.
"The first time I used a mouse, I was going to train myself on it," he said. "I decided to play [Microsoft] Solitaire. I believe Microsoft first put it in Windows to teach people how to use the mouse. When you called me just now, I was killing time waiting for a meeting by playing Solitaire. So I've been practicing using the mouse for over 20 years."
Zammett said the mouse is much better than the roller ball. "I didn't think so at the time, however," he said. "I could really sling that roller ball."
Engelbart's lifelong involvement with the development of ever-better ways for people to interact with computers started when he was a naval radar technician at the end of World War II.
While stationed in a native hut serving as a Red Cross library on a small South Pacific island, Engelbart read a magazine article written by mathematician Vannevar Bush that referred to a hypothetical machine called the "memex," which could extend human memory across multiple types of media.
After the war, Engelbart got his bachelor of science degree in electrical engineering and was hired by Ames Laboratory.
He told CRN that he kept thinking about Bush's ideas, and then one day realized that computers could be programmed to generate images on a screen.
"I got a picture of interactivity," Engelbart said. In his vision, information was "portrayed symbolically" on terminals, and people sat at workstations accessing and sharing that symbolic information. "Within 20 minutes to a half-hour, the whole thing about computers and all the rest flooded in," he said.
After getting his doctorate in electrical engineering at the University of California at Berkeley, Engelbart went to work at the Stanford Research Institute (SRI) in Menlo Park, Calif., where he met strong resistance to his ideas.
However, a 1963 paper he wrote entitled "A Conceptual Framework for the Augmentation of Man's Intellect" caught the eye of scientists at the Advanced Research Projects Agency (ARPA), a Department of Defense office looking at how to connect computers over long distance to protect data should one of them be destroyed in a nuclear attack. He launched the Augmentation Research Center (ARC), which later became the Network Information Center for the ARPANET, the forerunner of the Internet.
Engelbart is survived by his wife, three daughters, a son, and nine grandchildren.
Tim Long contributed to this article.
PUBLISHED JULY 3, 2013