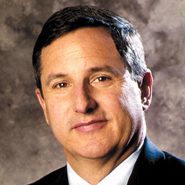 Mark Hurd
A shareholder lawsuit filed against Hewlett-Packard and former HP CEO Mark Hurd in relation to HP's firing of Hurd was dismissed by a judge who cited a vague corporate ethics statement.
The lawsuit, filed in August of 2012 as a class-action lawsuit by the Cement & Concrete Workers District Council Pension Fund of Flushing, N.Y., was dismissed by U.S. District Judge Jon Tigar on Friday.
Tigar wrote that HP's statement of business ethics, adopted in the wake of an earlier scandal regarding illegal methods HP used to investigate who on its board of directors was leaking news about the company to the press, was based on vague, general statements.
[Related: Oh, How The Mighty Have Fallen: Scandals That Rocked The IT World]
Tigar, in his order granting dismissal of the case, called HP's statement of business ethics "inactionable puffery," according to a copy of the statement examined by CRN.
"Adoption of the Plaintiff's argument here would still render every code of ethics materially misleading whenever an executive commits an ethical violation following a scandal," Tigar wrote, according to his order granting dismissal of the case, a copy of which CRN examined.
Mark Hurd, the man credited with helping HP overtake IBM to become at one time the world's largest IT company, was fired in August of 2010 by HP over a couple of instances of poor judgment.
HP originally investigated Hurd in response to allegations of sexual harassment connected to his relationship with Jodie Fisher, an actress who was hired by HP several times to greet executives at HP functions.
While HP's investigation eventually found no evidence of violations of HP's sexual harassment policy, and Fisher and her lawyer, Gloria Aldred, denied any sexual intimacy between Hurd and Fisher, the company fired Hurd over his undeclared close personal relationship with Fisher that constituted a conflict of interest, failure to maintain accurate expense reports, and misuse of company assets.
One month after being fired by HP, Hurd joined HP rival Oracle as co-president.
NEXT: Plaintiffs Maintain HP, Hurd Both Violated In the original class-action lawsuit, a copy of which can be viewed online, the plaintiffs said HP issued a Standards of Business Conduct Brochure (SBC) in 2006, with modifications in 2008 and 2010, and that Hurd had been "materially violating" those SBCs with his relationship with Fisher.
The plaintiffs also called those violations "material to investors because they subjected Hurd to the risk of dismissal from HP," but said that HP did not reveal that it was investigating Hurd until the company on Aug. 6, 2010, announced his departure.
The plaintiffs also sued Hurd whose actions, because of his position as CEO, could materially impact HP.
That entire period when Hurd was fired by HP -- and the subsequent lawsuits between the two -- was a big mess, said Rich Baldwin, CIO and chief strategy officer at Nth Generation Computing, a San Diego-based solution provider and long-time HP partner.
"This is the best possible outcome," Baldwin said. "There was a lot of time and money spent on those cases, and it's already a non-issue."
An HP spokesperson said the company is not commenting on the dismissal of the lawsuit. Oracle did not respond to requests for more information by press time.
PUBLISHED AUG. 12, 2013