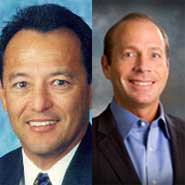 TIG's Geier (left) and Nexus IS's Pearson both claim victory.
Solution providers Technology Integration Group and Nexus IS this week settled a lawsuit under which TIG accused Nexus IS and several former TIG employees of breech of contract, stealing of trade secrets and illegally hiring TIG personnel.
The settlement, which includes Nexus IS paying TIG just slightly over $1 million while not admitting guilt, ends a case that started back in 2007 when TIG hired a group of seven employees from MTI, a storage solution provider that filed for Chapter 11 bankruptcy protection that same year.
San Diego-based TIG filed the lawsuit against Valencia, Calif.-based Nexus IS in late 2008, and it was settled days before it was expected to go to trial.
[Related: TIG, FusionStorm Close Books On Lawsuit With Last Damages Payment]
Both solution providers claimed victory in the lawsuit.
For TIG, the $1.04 million settlement vindicated its allegations that Nexus IS improperly employed TIG personnel and used TIG intellectual property.
Bruce Geier, TIG president and CEO, told CRN the case was more than just money.
"It's about how to make this a better sandbox for all of us to play in," Geier said. "There's plenty of sand. You just can't be greedy."
By settling and then talking about the case, Geier said he hopes the message that competitors can compete without resorting to illegal tactics will sink in throughout the solution provider community.
"You can't do this," he said. "You run into a guy like me, and I don't care how, but I gotta make it stop."
Nexus IS CEO Deron Pearson told CRN the lawsuit should never have been filed, and that the settlement, which he said was paid for by Nexus IS's insurance company and probably was less than what TIG paid its law firm, made it possible to close the case and remove the distractions it caused.
"There was no evidence to support the lawsuit," Pearson said. "Our insurance company represented us because we didn't do anything wrong. Nexus IS didn't use any TIG confidential information, period. There was no reason to use it. It was a distraction more than anything else."
Pearson also said the fact that Nexus IS hired a group of people from another company is not unusual. "We will hire 150 people over the course of this year," he said. "Hiring five people from a single company over a couple months is not unusual."
NEXT: Allegations From The LawsuitIn the 2008 lawsuit, a copy of which CRN reviewed, TIG in 2007 hired the seven former MTI employees.
Those employees signed employment agreements restricting them from soliciting TIG employees for another employer for a year after leaving the company. The agreements also forbid them from taking trade secrets from TIG or competing against the company by using such trade secrets after they've left the company, according to the lawsuit.
TIG alleged that one of those employees, William Clark Decker, who served as the company's director of engineering services, left TIG "involuntarily and on bad terms," after which he sent voicemails and emails to TIG's Geier containing threats to "bury" Geier and TIG as well as racial slurs.
Decker then allegedly solicited his six former MTI and TIG colleagues and other TIG colleagues to work for Nexus IS "in violation of his employment agreement with TIG and to fulfill his promises to Bruce [Geier] to bury him, bury him n the industry, and to negatively [affect] the business of TIG, and to get back at him for losing his job with TIG," according to the lawsuit.
CRN was unable to contact Decker via email or telephone.
Several of Decker's colleagues were alleged to have also worked as agents of Nexus IS to solicit TIG employees, according to the lawsuit.
Those employees along with Nexus IS were also accused of damaging TIG's business due to "unfair competition" related to the use of TIG's intellectual property.
Geier told CRN that among the evidence that surfaced from discovery in preparing for trial was Nexus IS's having a copy of every proposal ever made by TIG.
Those proposals, which had been copied to a thumb drive that was in Nexus IS's possession, filled over 100 boxes when printed out, Geier said.
Prior to hiring the former TIG employees, Nexus had no EMC or storage practice but does so now, Geier said. "These guys were our storage group," he said. "And they used [our] information against us. Maybe they got a sale, maybe they damaged us."
Dan DeCarlo, a partner at Los Angeles law firm Lewis Brisbois Bisgaard and Smith LLP and the lead attorney working for Nexus IS, told CRN it was inaccurate to say Nexus IS had a copy of every TIG proposal.
"Nexus IS had none of the TIG proposals," DeCarlo said. "[Geier's] statement is incorrect. Evidence developed for the trial is that Nexus IS didn't have any of that material."
NEXT: Point, Counterpoint And An FBI RaidTIG's Geier countered that Nexus IS turned over the data, including the proposals, to TIG as part of the discovery phase. "Why would they turn it over as part of the discovery phase if they say they didn't have it," he said.
In preparing for the trial, which because of the last-minute settlement never happened, Nexus IS was prepared to ask TIG for more information about a May FBI raid on two TIG offices based on a Federal search warrant, Nexus IS lead attorney DeCarlo said.
TIG filed a motion, which CRN reviewed, to preclude reference of the FBI raid from the trial. However, Nexus IS filed an opposition, which CRN also reviewed, alleging that details of the cause for the raids, which were never made public, would be relevant to Nexus IS's defense against TIG's lawsuit, DeCarlo said.
"Plaintiff's damage expert in his 2012 opinion considered what TIG's sales in 2013 would have been but for defendants' alleged wrongful conduct. As such, that a significant event occurred in 2013 that was unrelated to the alleged wrongful conduct and which most certainly has impacted TIG's 2013 sales is then unquestionably relevant to at least plaintiff's damage calculations," Nexus IS wrote in its opposition.
Geier said the FBI raid, which was related to a whistleblower action filed five or six months ago against TIG, resulted in no charges being filed.
"The FBI does this to many people," he said. "They're raiding people every day. There's no relevance to this case. Nexus IS was trying to divert attention from themselves at having settled for a seven-figure amount with negative news."
TIG and Geier are no strangers to taking competitors to court over hiring practices.
TIG in 2010 was awarded $10.9 million in a lawsuit against FusionStorm after proving its case that the San Francisco-based solution provider and former TIG executives were found liable for among other things misappropriation of trade secrets, breach of fiduciary duty and breach of loyalty.
In that case, the jury awarded TIG a total of $9.36 million in compensatory damages and $1.525 million in punitive damages from FusionStorm and the six individuals at the center of the case.
TIG also currently has another similar case against an Orange County, Calif.-based solution provider that Geier said he believes is "resolvable."
NEXT: Defining The Word "Victory"Nexus IS lead attorney DeCarlo declined to discuss the impact of the lawsuit against the seven employees named in the lawsuit, other than to say the settlement covered them as well as Nexus IS.
"I won't comment on the individuals," he said. "This case is about Nexus IS."
DeCarlo said the settlement between the two solution providers was no victory for TIG. "The reality of modern litigation is, cases are settled every day," he said.
For instance, he said the settlement, a copy of which CRN reviewed, contained no restriction on any Nexus IS activities going forward. "In cases of theft of trade secrets, it's common for there to be a requirement to return the trade secrets," he said.
In any case, DeCarlo said TIG has a curious definition of "victory."
"It's a curious definition of victory when a company settles for less than what it spent on the case," he said. "TIG would have been better off if it hadn't prosecuted this case."
TIG's Geier admitted that the $1.04-million settlement realistically may not have covered his company's expenses.
"Trials are expensive and have a big impact on employees," he said. "We wanted to make a point. There was no admission of guilt as part of the settlement. But, over $1 million is an admission of guilt. It doesn't take a brain surgeon to figure that out."
PUBLISHED OCT. 10, 2013