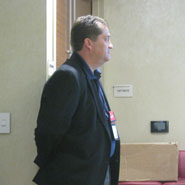 VARCommerce's Steve Gay
Channel-focused software developer VARCommerce has enhanced its application aimed at helping solution providers manage nearly every aspect of running their business with QuickBooks integration and a new module for quickly creating e-commerce sites for customers.
The enhancements, unveiled at the recent Synnex Varnex conference, expand the software's reach into a solution provider's operations, said Steve Gay, managing partner for Dublin, Ohio-based VARCommerce.
"From quote to order entry to e-commerce to delivery of products, VARCommerce streamlines a VAR's entire process," Gay said.
[Related: HP To Synnex Varnex Attendees: The Channel Is Our Priority]
VARCommerce is owned by the same people who own Strategic Sourcing, a Dublin, Ohio-based solution provider that originally developed the software, Gay said.
VARCommerce, which in 2012 was launched as part of Synnex's One IT platform for running a solution provider's entire business, has at its core modules for customer relationship management, operations, quoting and a storefront.
Around this core is the ability to interface with third-party providers of accounting, CRM, professional services automation, lease, credit, content development, and distribution services solution providers require, Gay said.
New to the VARCommerce application is integration with Intuit's QuickBooks small business accounting system, which Gay said is one of the most common accounting applications used by solution providers.
Also new is a complete platform for helping customers build custom e-commerce websites, said Ben Montello, senior solutions architect for VARCommerce.
"The reseller can create custom store sites for each customer with customized logos, different featured products and even different pricing," Montello said. "The storefronts can allow specific users to see an entire catalog, or only the products they are authorized to see."
Montello said the storefronts also integrate with software from Bainbridge Island, Wash.-based Avalara, which automatically adjusts the tax rate according to the destination of the shipment.
The new additions to VARCommerce help enhance its differentiation in the market from other applications commonly used by solution providers, said Jeff Bohlig, a principal at Compar, a Minnetonka, Minn.-based solution provider serving SMB, enterprise and public-sector customers.
"VARCommerce has e-commerce and accounting capabilities," Bohlig said. "We can manage the customer process from cradle to grave, from quoting to producing invoices to billing, and place orders with distributors like Synnex."
NEXT: Opportunities For Highly Customized E-Commerce Sites, Catalogs
Having the new e-commerce capability for building custom sites for clients, including catalogs for their internal customers, is an important tool, Bohlig said.
"We want to build highly customized offerings for our customers who have standards for how they want to offer products," he said. "For instance, a government organization may want to give its users a choice of two notebooks from three vendors. We can then add PDFs and technical information to go with the choices."
The new custom e-commerce sites for internal and external customers are a huge opportunity for solution providers, said Brittani Von Roden, director of marketing and communications at Erb's Technology Solutions, a Cedar Rapids, Iowa-based solution provider.
"There are three million SKUs available for the e-commerce sites," Von Roden said. "You can really be creative in what you want your business to do. You can develop catalogs, and add special bundling. It helps partners compete against companies like CDW and Insight."
While the e-commerce function is product-focused, there is room to make services a central component of a deal, Von Roden said.
"The software provides for banner advertising and sidebar advertising, which could be used to expose a list of solutions," she said.
VARCommerce replaced three different platforms Erb's previously used to handle the various aspects of its business, Von Roden said. Erb's uses it to manage orders and leads, including tracking leads to marketing campaigns, as well as manage deal registration, she said.
The new integration with QuickBooks is also important, Von Roden said.
"Lots of small businesses use QuickBooks," she said. "That's why VARCommerce decided to integrate with it. VARCommerce is good at acting on feedback."
While VARCommerce is part of the foundation of Synnex's One IT platform and received its initial market push from Synnex's Varnex council, the software also integrates with the sales systems of other distributors, including Ingram Micro, Tech Data and D&H.
PUBLISHED DEC. 2, 2013