Printer-friendly version
Email this CRN article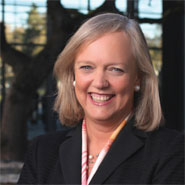 Meg Whitman
Meg Whitman was appointed Thursday chairman of the board at Hewlett-Packard.
The appointment was one of several changes to HP's board of directors and comes two days after HP's interim chairman Ralph Whitworth unveiled plans to retire for health reasons.
Whitman's rise to the chairmanship of HP comes less than three years since she took over as president and CEO of the company.
[Related: HP Goes To Clorox For New Enterprise Group CIO]
She has been credited with steering HP clear of several major issues left by her predecessors, including the decision to spend $10.3 billion on software maker Autonomy and the near disaster caused by plans, later canceled, to spin HP's PC division into a separate company. Both took place in the months preceding her hiring by HP.
HP's share price is now the best it has been since July 2011. Whitman took the reign in September of 2011 when HP's stock was $22.50 per share. It dipped as low as $12.44 per share in December 2011 and closed Thursday to $34.82 per share.
Whitman has done a phenomenal job since she took over HP, said Kent MacDonald, vice president of converged infrastructure and network services at Long View Systems, a Calgary, Alberta-based solution provider and HP channel partner.
"She's stemmed the bleeding, and done a lot of good work," MacDonald told CRN. "Her appointment is a validation that HP and the market has confidence in her. When they look in the rear view mirror today, HP didn't look pretty in the past."
MacDonald said Whitman has proven her ability to work together with solution providers to build HP and its business.
"After she took over HP, we were at an HP partner event standing in the buffet line, and there she was in front of us, standing in line with us," he said. "It shows her style. We weren't expecting her to share the buffet line with us, albeit along with her body guard as well. She wasn't just putting her foot in the water. She immersed herself."
In addition to naming Whitman chairman, HP's board of directors saw several other additions, including the appointment of current Director Pat Russo as lead independent director and the appointment of Alcoa CEO and Chairman Klaus Kleinfeld to the board.
PUBLISHED JULY 17, 2014
Printer-friendly version
Email this CRN article