The students of the Dayton Heights Elementary School in Los Angeles have a couple of new computer labs, thanks to help from Everything Channel's XChange community in a program spearheaded by two solution providers who met via Twitter.
The makeover came courtesy of Channel@Work Technology Makeover School Edition, a non-profit component of Everything Channel's XChange Solution Provider Conference.
The XChange community, including vendor executives, solution providers, and Everything Channel employees, teamed with 115 teachers, parents, and students from Dayton Heights on Sunday to put the finishing touches on the makeover.
The project provided much-needed technology for an elementary school designated as a Title 1 school with 91 percent of the student's families with household incomes below poverty level.
Microsoft contributed software, AMD brought in all-in-one Opteron-based workstations, Juniper offered networking gear, Samsung contributed LCD monitors and projectors and color printers, and Belkin brought in surge protectors.
Eric Martorano, director of Microsoft's U.S. partner channel, told the XChange community before the makeover began that the work they did in the end was not about the computers. "It's about the kids," Martorano said.
Bob Nitrio, CEO of Ranvest Associates, an Orangevale, Calif.-based technology consultant, did the technology assessment at the school in the days leading up to the makeover to set up the project.
Other XChange Community members worked hand-in-hand with students and local California artists to paint the school's halls.
Next: Twitter Brings People TogetherA big part of the IT makeover resulted from a Twitter message. Nitrio, the man tasked to lead the makeover, found during his assessment that a big part of the project involved Apple eMac computers in the school's computer lab.
He mentioned it to a friend, Karl Palachuk, an SMB consultant, blogger, and author, who without a word immediately reached for his Blackberry and sent a tweet to his followers. Within 15 minutes, he got a response from one company which Nitrio said wasn't quite right for the job.
However, when Nitrio got back to his office two hours later, he had an e-mail from Jessica DeVita, owner of Uber Geek Girl, a Santa Monica, Calif.-based solution provider with extensive experience with Apple systems and who was a big fan of Palachuk's work.
"Just two hours before, I was driving and thinking I'd like to do some work to help others," DeVita said. "Then I got that tweet from Karl, and wrote back."
Prior to the actual day of the makeover, DeVita made three trips to the school to assess its 34 eMac computers.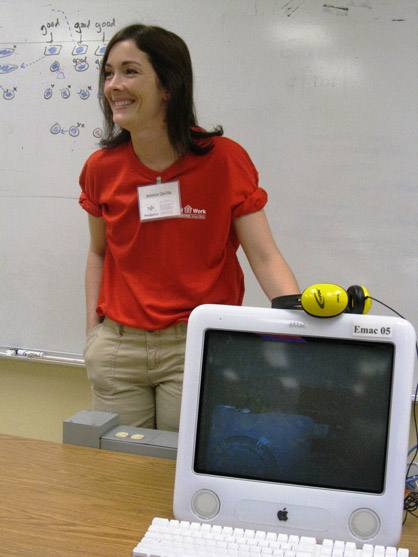 Jessica DeVita With An eMac At Dayton Heights Elementary School
The eMacs were about five years old, and were still under warranty, DeVita said. Most of them had a PowerPC processor, 1 GB of RAM, and a 160-GB hard drive.
"But every single one of these machines were out of date," she said. "Not patched or protected. They desperately needed to be rebuilt."
One of the eMacs had a hardware issue, and she sent it back to Apple for repair. Apple repaired it and sent it back with a completely clean image consisting of the old Tiger operating system, Microsoft Office, Norton Antivirus, and the MacShield software restore tool.
DeVita and her husband and son then cloned the new image from system to system using Firewire connectors. They also took the time to fix the keyboards, clean the lab, and disinfect the desks and computers, and finished the day before the makeover just in time to beat the janitor out the door.
On the day of the technology makeover, Nitrio led a group of solution providers and vendor representatives to rebuild the school library's workstation area with six new AMD-based all-in-one workstations connected to a new Samsung color printer.
A similar workstation was also installed by the team in the teacher's workroom and connected via the network to a printer and two copy machines.