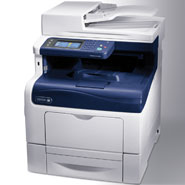 Xerox WorkCentre 6605 CMFP
The Xerox Work Centre 6605 Color Multifunction Printer is a sturdy all-purpose workgroup printer designed for small to midsize companies and departments that's easy to set up, use and maintain. Starting at $999 list, the 6605 is rated to deliver 36 pages per minute for black or color output and offers a workload of 80,000 pages per month. This thing is a workhorse.
Unveiled in September, Xerox's latest color MFP also includes a few attributes that IT departments are sure to appreciate. For one thing, the 6605 arrives with its four toner cartridges preinstalled. After removing about a dozen strips of transit tape, loading paper and plugging it in, the Work Centre whizzed to life and about 90 seconds later, it spit out a test page. For testing, Xerox sent the Work Centre 6605DN model, which adds a duplex unit (for two-sided printing) and lists for $1,099.
Printer drivers for Mac OS X and Windows are included on CDs along with applications for accessing the 6605's faxing and scanning capabilities over a network. DHCP is enabled on the printer by default, and once we connected the unit's gigabit Ethernet port to our test network, the 6605DN was detected and the Xerox software sent a test page to confirm a successful installation. Documentation includes an illustrated set-up sheet but we didn't need it. Total software setup time was about three minutes. There's also a Quick Use Guide that IT service providers might appreciate. It contains illustrated pointers to major features but spares busy service techs from having to wade through endless detail.
The Work Centre 6605DN turned in an impressive time-to-first-page, which in most cases was between nine and 11 seconds. For the office, we translate this to mean that printouts will usually be waiting at the printer by the time you get there. For multipage printouts, the 6605 was true to its rated 36-ppm print speed. This applies to color, black-only, and when printing with a mixture of text and color graphics. The machine put out 20 copies of an all-text multicolor document in 40 seconds; 10 all-black text pages in 27 seconds; and 10 pages with text and color graphics in 31 seconds, including 16 seconds before the first page appeared.
NEXT: Ease-of-use featuresAs easy as the Xerox Work Centre 6605 Color Multifunction Printer was to set up, it's even easier to use. This is due in large part to its 4.3-inch color touch-screen control panel, which presents large buttons for the unit's main at-machine functions of copying, emailing, faxing and scanning, plus dedicated buttons to invoke settings for copying ID cards and printing from specific devices. Unlike many other MFPs we've tested, the 6605 works like a copier when in copy mode, like a fax machine when in fax mode, and so on.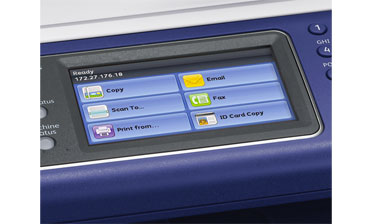 Software behind the control panel presents logical and intuitive controls that work with the numerical and other keys that straddle the bright, backlit LCD. Before scanning, for example, the machine prompts for a destination for saving scanned images. This can be a network folder (via SMB or FTP), email address (with LDAP support) or local USB drive (as PDF, JPG or TIFF). There's a USB 2.0 port on the unit's front panel for output or direct printing.
The Work Centre 6605 supports PCL 5 and 6 as well as Adobe Postscript 3 with a maximum resolution for printing and copying of 600 x 600 (for printing, 1,200 x 1,200 with interpolation). Ethernet and USB 2.0 input ports are standard; Wi-Fi b/g/n is optional. For confidential output, a secure print feature enables print jobs to be held at the printer until a secure PIN is entered on the keypad. The main paper tray holds 550 sheets up to legal size; plus another 150 in the multipurpose tray. The output tray holds 250; the duplex feeder can handle 50. The 6605 has a footprint of 16 inches wide by 21 inches deep. It requires 22 inches of vertical clearance.
The 6605 consumes 560 watts when operating, 72 watts in standby mode and 6 watts in power save. According to the cost-per-page for Xerox MFPs document published by the company, the 6605 costs about 2.4 cents per page for black and about $15.4 cents per page for color.
The copier features automatic adjustments for page fit, exposure, color balance and saturation. The full-featured fax machine includes an address book and can broadcast, delay, forward faxes to other fax machines or to an email address and can block junk faxes. Xerox also offers hundreds of free templates (PDF and Word docs) for calendars and planners, sales and marketing materials and presentations, customer and employee greetings, letterhead and other corporate identity materials, signage and others.
For equipping a small office or department with high-quality color printing, copying, scanning and fax at a reasonable price, the Xerox Work Centre 6605 would make an excellent choice.