Printer-friendly version
Email this CRN article
But all that connectivity isn't even its most clever part of the Targus USB 3.0 SuperSpeed Dual Video Docking Station with Power. For charging devices that draw up to 90 watts, the solution includes a power output port and short cable with plug adapters under a flip-up cover to fit most popular laptops and some tablets, permitting road warriors to leave their power bricks in the bag. Unfortunately there's no MagSafe adapter, so MacBooks will have to use their own charger.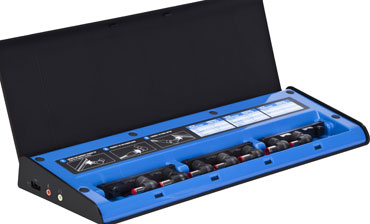 The disc included with the test unit contained only Windows drivers. So to connect our test MacBook, we visited the Targus driver page, where we found software for Intel-based Macs running OS X 10.6.8, 10.7.5, 10.8.3 (the latter was running on the test MacBook). The same Targus driver page contains links to video and Ethernet drivers for Windows 7 and Windows 8 as well. The DisplayLink DMG downloaded in less than a minute over Wi-FI and ran as a standard installer package. There's also an uninstaller package included. During tests, the driver installed in a minute or two.
While the MacBook was restarting, we ran an HDMI cable from an external monitor to the docking station's HDMI port. We connect often to this monitor from the MacBook, so we're familiar with its operation and it's familiar to the Mac. We also plugged in a USB mouse and keyboard and connected the dock's Gigabit Ethernet port to our network. Next we ran the included USB 3.0 cable from the dock's host port to the Mac. After a few seconds, the monitor blinked to life and set itself up as the primary display, just as is the preference when plugged directly to the MacBook.
NEXT: MacBook Known Issues
Printer-friendly version
Email this CRN article