Motherboards News
Tech 10: Hot Components For 2013


10:45 AM EST Mon. Apr. 01, 2013


From high-end graphics cards to motherboards, these components are pushing the limits and capabilities of today's systems.
2013 Partner Programs Guide: Peripherals Vendors


10:00 AM EST Thu. Mar. 28, 2013


The following vendors in our annual Partner Program Guide received the 5-star award based on their displays, components and digital signage in the peripherals space.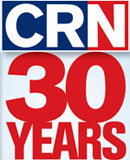 CRN's 30th Anniversary
In our special report
, we reflect on the changes in technology and take a trip down memory lane as we reminisce on the companies and personalities that shaped the industry over the past three decades.