Page 1 of 2

Virtualization has become a top technology priority among midsize enterprises, with many of them going so far as to completely virtualize their entire IT infrastructures.
The midsize enterprise is by far the most exciting market for virtualization technology, according to Keith Norbie, vice president of sales at Nexus Information Systems, a Minnetonka, Minn.-based solution provider.
Midsize enterprises represent the broadest spectrum of virtualization adoption of any customers, from companies dragging their feet to going fully virtual, Norbie said.
"It's a broader spectrum than at the enterprise level," he said. "Enterprises are all at about the same level of virtualization. In a big enterprise, you hit a glass ceiling. Those companies have a lot of stuff to virtualize. But you also have a lot more operations friction in terms of going beyond a certain level."
The midmarket virtualization business, however, is one of extremes, Norbie said.
On the one hand, some companies have little or no virtualization technology. "Never underestimate the ignorance of midsize IT environments," he said. "Some folks are still running Windows NT 3.51 or NT 4.0 and Token Ring."
At the other extreme are aggressive adopters of virtualization technology who are looking at how to use information technology to develop new markets. "These companies are virtualizing to reach public clouds, or build private clouds, and access new ways to do disaster recovery and virtual desktops."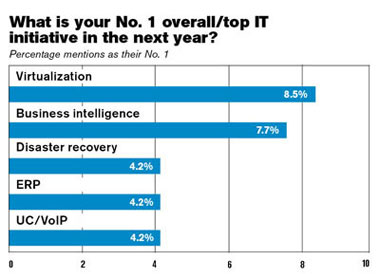 A recent poll of nearly 200 midsize enterprises who attended the Midsize Enterprise Summit, which was organized and hosted by Everything Channel, CRN's parent company, found that virtualization technology was their main IT priority in the next 12 months.
About 8.5 percent of respondents selected virtualization as their top IT initiative in the next year, followed by 7.7 percent who chose business intelligence, and 4.2 percent each for disaster recovery, enterprise resource planning, and unified computing/VoIP.
When asked what their top hardware initiative for the next year was, 18.8 percent chose virtualization, followed by 9.7 percent who chose SANs, 9.7 percent who chose storage, and 7.5 percent who chose server upgrades.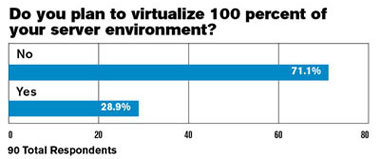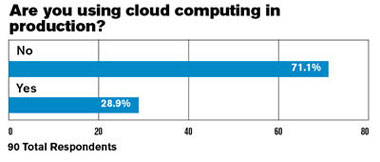 About 29 percent said they plan to virtualize 100 percent of their server environments in the near future, and the same percentage said they have already adopted some form of cloud computing.
One such agressive company is the San Francisco Symphony, an organization that has two physical servers hosting a total of 10 to 12 virtual servers using VMware technology but plans to eventually virtualize its other 30 servers, said CIO Michael Skaff.