Page 1 of 2

Regardless of whether a computer's desktop is run from a local PC or a far-flung server in a co-location facility, the power that's required to boot and maintain that operating system has to come from somewhere, as does the energy required to run the access client.
As the number and variety of software- and platform-as-a-service vendors increases, so too does the use and increasing dependency people will have on virtualized machines deployed by those vendors. Companies everywhere are seeking the savings and business agility that come with virtualization, and server density and data center consolidation continue to trend upward.
Except for slight dips after the turn of the century, world spending on servers, power and cooling has continued to rise continuously since 1996, according to IDC. During the period that extends through 2012, the installed base of systems is expected to rise by more than eight times, increasing from around 5 million units to more than 40 million, estimates the researcher.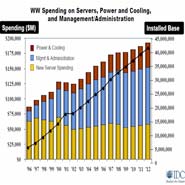 Click image for full-sized view
For VARs, this trend spells new opportunities to help keep customers focused on power usage efficiency. They will see opportunities as customers focus on increasing power protection to match increases in compute resources, employing services to monitor energy systems to maintain peak efficiency, and integrating power management systems with an organization's existing support and reporting infrastructure.
"One thing that gets forgotten about when deploying virtualization environments is what to do about power," said Jeff Ames, senior business unit manager in the Distributed Power Solutions Division of Eaton. Among the risks of an underpowered data center are tripped breakers, overloaded circuits and a rise in unpredictable system behavior and data loss due to power anomalies.
Seizing The Power
Power management companies are seizing the opportunity. They're combining the abilities of their own software to control hardware power with the features of the hypervisor. Most far along in this type of integration is Eaton, whose plug-in for VMware puts power management features right inside the vCenter.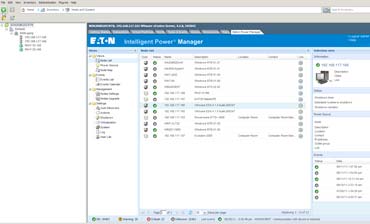 Click image for full-sized view.
Eaton's Intelligent Power Manager for vCenter plug-in eliminates the need to switch to a separate tool and maintain separate settings. Host servers are discovered and listed in the center pane, and when selected, can be configured by administrators for automatic actions of hosts based on power events such as shutting down or migrating (using vMotion) to a host that's not in distress. IPM events appear on vCenter's logs and in server dashboards. Eaton's Intelligent Power Protector module can initiate orderly shut downs of ESX and ESXi servers and virtual machines as well as Microsoft Hyper-V and certain versions of Linux.
The CRN Test Center has tested Eaton's Intelligent Power Manager for vCenter plug-in, and liked the convenience of having power management features and logging within the vCenter interface. To test its integration with vMotion, we used IPM to configure a pair of hosts, each with separate power sources and set them to migrate one-to-the-other immediately following a power event. Then we pulled the plug. After 10 seconds, the distressed host entered maintenance mode and began to make its move. A minute or two later, the troubled node had successfully shed its workload to a healthy host and shut down. All events were recorded in vCenter's logs. Hosts can also be set to automatically migrate back to their starting points once power is restored.
IPM can be set up to send power-event alerts and notifications through e-mail with an eye toward helping maximize system availability, simplifying asset management, remotely controlling power to connected devices and performing power analysis and trending reports. In other words, IPM can be the an MSP's on-site field technician.