Hewlett Packard, in a new plan to develop technology customers can use to build a new generation of energy-efficient data center architectures, is turning to startup server vendor and ARM partner, Calxeda, instead of its old partner, Intel, for its initial development platform.
HP on Tuesday unveiled Project Moonshot, a new program which targets the sharing of storage, networking, management, power, and cooling resources across thousands of energy-efficient servers.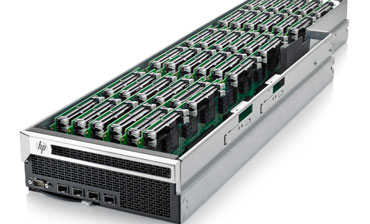 HP Redstone server shelf with ARM-based server modules.


However, for its initial development platform which it will open to customers and partners looking to take advantage of new energy-saving technologies, HP is depending on ARM processor-based servers from Austin, Texas-based startup Calxeda.
The partnership between HP and Calxeda does not mean HP will be selling Calxeda's ARM-based servers, said Jim Ganthier, vice president of marketing and operations at HP.
"This is a development platform," Ganthier said. "It's not being delivered to customers."
For Calxeda, however, the partnership with HP is a strong win for a company which only came out of stealth mode in June.
Calxeda is developing servers based on its EnergyCore ARM processor modules, which pack four ARM processors along with 4 GBs of ECC DRAM per processor, the company's EnergyCore fabric switch and management engine, and third-party I/O controllers on a 20-inch plug-in card, giving a total of 4 servers per module.
Each quad-core processor consumes 3.8 Watts, compared to 1.5 Watts for the dual-core version. A fully-configured quad-core server consumes 5.0 Watts, meaning a four-server module using quad-core processors consumes only 20 Watts of power.
For HP's Project Moonshot, HP unveiled its Redstone Server Development Platform based on the quad-core Calxeda EnergyCore ARM Cortex processor nodes. The servers also include HP's own energy-saving technologies.
The Redstone server fits over 2,800 separate servers in a single rack, dramatically reducing the cost and complexity of cabling and switching, Ganthier said. "That's a 97-percent reduction in complexity," he said.
Another part of Project Moonshot will include the building of HP Discovery Labs, starting in December with the first one in Houston, Ganthier said.
Those labs will include the new Redstone servers as well as other technology needed to help customers and partners develop new energy-efficient data center architectures, he said. "They will let customer come and use the equipment, or remote in to try it," he said.
The Redstones consume 89 percent less energy, require 94 percent less space, and cut costs by up to 63 percent compared to traditional server infrastructures, Ganthier said.
The Redstone servers are expected to be available starting in the first half of 2012, Ganthier said. HP will own the hardware, and make them available to customers, but will not sell it, he said.
Karl Freund, vice president of marketing for Calxeda, said that HP is smart in the way it is moving to find alternate server platforms on which to build energy-efficient data centers.
"HP is a smart company," Freund said. "They want to lead this. But they don't want to commit to a specific implementation. They want wiggle room. They will use our existing platform while developing more cost-effective platforms."
While HP is currently not planning to sell the Calxeda ARM-based servers, Freund said that he expects sales could still be possible. "If someone came to HP and said they want five racks, they can make them available," he said.
Ganthier could not say whether HP will eventually sell Calxeda-based servers, nor would he say whether HP would bring ARM-based servers to market.
Next: More Energy-Saving Tech To Come From Both Calxeda And HP
"No company, including my peers, would sell development platforms," he said. "But when we bring our energy-efficient servers to market, it will be an HP ProLiant-class platform."
Calxeda is currently talking to five OEM customers about purchasing its servers for use as development platforms, Freund said. However, he declined to name potential partners other than HP.
"Everyone is trying to understand how big the push for energy efficiency is," he said. "I applaud HP for seeing how big this is, and for doing something about it."
The partnership with Calxeda and that company's ARM-based servers brings into question the possible impact Project Moonstone has on HP's relationships with its top processor vendors, AMD and Intel.
Partha Ranganathan, corporate fellow at HP Labs, said that AMD, along with Red Had, Canonical, and Calxeda, are partners in HP's new Pathfinder Program, which aims to develop technologies that work as part of Project Moonstone.
"AMD is on-board, as part of the Pathfinder Program," Ranganathan said.
Ranganathan also said HP's Intel relationship is strong. "Intel has a rich history of innovating with us," he said. "This won't change going forward."
HP also said that extreme low-energy server platforms based on the Intel Atom or other processors are planned.
Project Moonstone is not about the processor, Ranganathan said. "It's about taking innovation across the data center, across compute, storage, networking, power, and cooling in the data center, and testing them all out in massive scale," he said.
Last week, when word about Project Moonstone and a possible HP-Calxeda relationship leaked out, an Intel spokesperson told CRN the company is not concerned about the possible partnership between HP and Calxeda or about how it might impact HP's relationship with Intel.
The Intel spokesperson said Intel is already addressing low power consumption data center architectures with highly dense server architectures, with new versions of its Xeon processor which consume as low as 20 Watts per processor, and its Atom processors which feature sub-10-Watt power consumption.
Unlike the ARM processors, Intel's Atom processors are 64-bit chips which feature x86-based software compatibility, making them suitable for a wide variety of applications, especially for applications which require high scalability, the Intel spokesperson said.
Intel has recently accelerated its Atom processor roadmap with plans to move from its current 32-nanometer process for manufacturing the chips to a 22-nanometer process in 2013 and a 14-nanometer process in 2014.