Page 1 of 2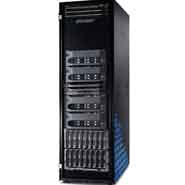 Dell Active System 800
Dell on Thursday expanded its converged infrastructure offering with the introduction of its new Active Infrastructure family, which combines the company's server, storage, networking and management technology into a single solution.
The Active Infrastructure family is part of a new move by Dell to take advantage of the fact that its various hardware offerings are based on non-proprietary technology, giving it the ability to offer a level of flexibility and scalability that competitors such as Hewlett-Packard and Cisco do not, said Marius Haas, president of Dell's Enterprise Solutions Group.
"Dell is the only player in the market today bringing these things together. ... We want to make sure that when customers buy solutions today, they can scale it up and scale it down tomorrow," Haas said.
[Related: Dell Working To Convince Software Channel It's A Worthy Partner]
That kind of flexibility requires a company to own all the technology required to build a solution, Haas said. Dell can do it thanks to its scalable Compellent storage technology, its market-leading EqualLogic iSCSI storage offering, its dense server technology and both Dell and Force10 networking technology, he said.
Together, it makes for a unique opportunity for customers, Haas said. "Scalable, modular components that bring best-in-breed technology in an integrated solution," he said.
Dell's new Active Infrastructure converged infrastructure offering, which Dell expects to start shipping in the U.S. by late November of this year, will be available in two versions, said Dario Zamarian, vice president and general manager for Dell networking.
One of them will be pre-integrated systems, which will be fully engineered, assembled and tested by Dell and implemented using Dell's enterprise deployment services, similar to the fully-configured Vblock solutions from VCE, the joint venture company owned by Dell rivals EMC and Cisco.
The other will be what Dell calls Active System Architectures, which are customizable blueprints for building converged infrastructure similar to the FlexPod architecture from NetApp and Cisco, or EMC's VSPEX architecture.
The first offering, the Active System 800, will be based on Dell's 12th-generation blade servers, Dell EqualLogic storage, and Dell Force10 networking technology.
On top of the hardware is a new software offering, the Active System Manager, which lets users manage common infrastructure administrative tasks.
NEXT: Building Complete Infrastructures With Dell

1 | 2 | Next >>