Page 1 of 2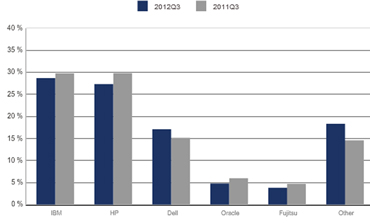 Total WW server market, 3Q 2012. Click for full-sized view.
Server revenue fell in the third quarter of 2012, with only Dell and Cisco among the top vendors showing any growth at all, according to a couple of analyst reports released this week.
IDC, Framingham, Mass., said in its latest Worldwide Quarterly Server Tracker that worldwide revenue for vendors of all servers fell 4 percent over the third quarter of 2011 to $12.2 billion, marking the fourth consecutive quarter for falling server revenue. That was despite a slight 0.6 percent uptick in server unit shipments over last year to 2.1 million units.
Meanwhile, Stamford, Conn.-based Gartner reported third-quarter 2012 worldwide server revenue fell 2.8 percent over last year to reach $12.6 billion despite a 3.6 percent growth in the total numbers of servers shipped, which reached 2.5 million units.
[Related: 2Q Servers: Sales Fall, Dell Rises, Lenovo Knocks Cisco Off Top Five]
Both analyst firms agreed that, of the top server vendors, Dell was by far the biggest winner of the third quarter.
In terms of total server revenue, IBM remained No. 1, followed by Hewlett-Packard, Dell, Oracle and Fujitsu in both analyst firms' lists. However, Dell was the only one to show growth. Dell's third-quarter revenue rose 8.2 percent over last year according to IDC and 9 percent according to Gartner.
Gartner's report, by separating the x86-based server market from the market as a whole, called out a big gain for Cisco. Cisco, the newcomer to the server market with its UCS line, saw a 40.4 percent rise in total server shipments in the third quarter, giving it a server revenue growth of 56.5 percent.
The only other winner according to both IDC and Gartner was the "other" server vendors outside the top five. IDC estimated those vendors saw third-quarter revenue increase by 20.7 percent, while Gartner estimated those vendors' revenue grew 27.7 percent.
In the x86-based server market, Gartner estimated that HP remained the top vendor despite an 8 percent drop in shipments over last year to about 629,000 and a 9.3-percent drop in revenue to $2.8 billion.
NEXT: More Details On The x86, Linux, Unix Server Sales

1 | 2 | Next >>