Page 1 of 2

Dell has launched a new mobile device management appliance, the Kace K3000, that allows solution providers and IT administrators to better track and control the usage of mobile devices, including employee-owned BYOD phones and tablets, within the corporate infrastructure.
The appliance was developed to meet ever-increasing demand from customers struggling to deal with an influx of noncontrolled devices accessing their IT, said Roger Bjork, director of Enterprise Mobility Solutions at Dell.
"It's a perfect storm environment with the whole smart workforce emerging, the number of devices coming into the market and the resulting data explosion. How to manage and secure it is a big question," Bjork said.
[Related: 6 Non-Dell Products To See At Dell World]
The K3000 was announced by the Dell Software group at Dell World, the company's second annual partner and user conference, in Austin, Texas. The appliance will have a limited release to Kace customers in January and have general availability in "early 2013," according to the company.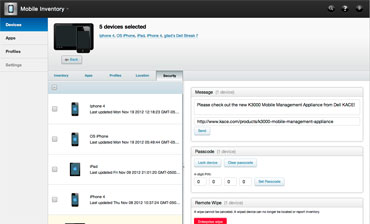 Click for full-sized view.
It will support Apple devices beginning with iOS 4.5 and Android 2.2+, according to Dell.
The appliance should help enterprises that are more interested in mobile device management because they see productivity increases among employees using their own devices to access work information, Bjork said.
"People see they can check email before bed and before they shower and work different hours," he said. Bjork cited a study that shows employees work an additional 240 hours per year, but also noted a result harder to qualify. "People tend to be happier when they're using their own devices," he said.
More than half of the workforce will bring their own device or devices to work within eight years, Bjork said.
"Folks coming into the workforce now have had the Internet their entire lives. The challenge is not just BYOD and the device, but these people work differently," he said. "The negative side is three of five think they're not responsible for protecting that [corporate] IT."
With these trends in mind, Dell developed the K3000, said Ken Drachnik, director of product marketing at Dell Kace.
The K3000 complements two other Kace appliances, the K1000, which manages Windows, Macintosh OS and Linux laptops, desktops and servers, and the K2000 deployment appliance, which handles systems provisioning, inventory assessment, and OS and application migration and recovery for laptops, desktops and servers.
"We look at mobile devices as another set of operating systems, alongside their laptops. We see the same kind of functionality: imaging devices, provisioning devices and deploying applications, enforcing things like passwords, patching those devices in a controlled and regular manner, getting regular reports, and ensuring that all devices really comply with the corporation's security policy," Drachnik said. "We can apply this same systems management approach to [iOS and Android] devices."
The K3000 has the ability to monitor and manage iOS and Android devices, initially, Drachnik said.
NEXT: The Cost of K3000