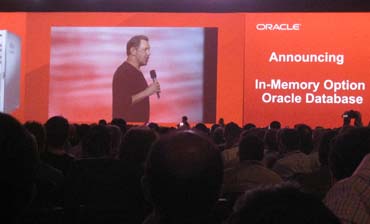 Larry Ellison
Oracle Sunday opened its annual Oracle OpenWorld conference with the introduction of several new hardware systems highlighted by an in-memory database technology it claims improves database query speed by 100 times with no changes to the applications.
The company also unveiled a high-performance engineered system based on its in-memory solution, a new high-speed backup and recovery solution specifically targeting databases from any vendor, and the third new SPARC server processor introduced this calendar year.
Oracle CEO Larry Ellison, who appeared on stage late Sunday after watching Oracle Team USA win two straight races in the Americas Cup, said the new high-performance solutions fit his vision of the data center of the future.
[Related: Converged Infrastructure Bets Are In: Where Are They Paying Off?]
That vision depends on specialized machines that offer the best cost/performance ratio, increase reliability and security, and are easy to use, Ellison said.
"You spend less buying it," he said. "You use less floor space to hold it. You use less electricity to run it. And it's all pretested, so it's much more reliable."
Those specialized machines to which Ellison referred are the Oracle engineered systems that combine Oracle's database, business analytics or other software applications with a hardware line that came with Oracle's 2010 acquisition of Sun Microsystems.
Since then, Oracle has optimized its software and hardware to work with each other in a series of tightly integrated converged infrastructure solutions.
Ellison did not disappoint with his introduction of the new Oracle engineered system and other data center solutions, said Kent Kellough, western area vice president at Advanced Systems Group, a Denver-based solution provider and Oracle partner.
"When Oracle bought Sun, Larry said Oracle would develop the technology to run Oracle software better and faster than anything else," Kellough said. "Since then, he's been laser-focused on running Oracle faster."
Ellison said Oracle's new in-memory database technology, which is available as an option for the company's Exadata database engineered system, takes a new approach to how queries are done on databases.
NEXT: How The Oracle In-Memory Database Technology Works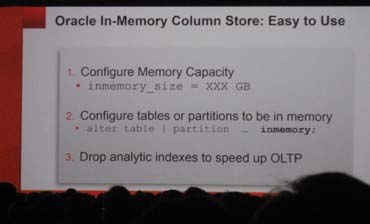 Oracle claims in-memory database technology is easy to use
Traditional database software stores data in a row format in which each record, such as a single transaction, is stored as a row of data. Another method calls for data to be stored in columns, which Ellison said makes databases faster by providing low overhead and quick access to a "column" or variable over many rows of data.
Oracle's in-memory database technology keeps both row and column formats in memory for fast updating of data and for high-speed queries. This is done by building reports based on the data that are stored as objects for high-speed queries without the need to update up to 20 different indexes each time an update to a transaction is stored.
Using the Oracle in-memory database technology, which is now built into the Exadata database engineered system, is easy, Ellison said. A user merely has to tell the system how many GBs of memory to allocate to the database and configure the tables and partitions.
"Flip a switch, and all your applications run much faster," he said.
No other changes need to be made to the system or the application, Ellison said. The solution even works in scale-out systems such as Oracle RAC, as well as any third-party applications, he said.
"Everything that works today works faster with the in-memory option turned on," he said.
Furthermore, Ellison said, the entire database does not need to be run in-memory. The Oracle Exadata system has hierarchical memory capability that can automatically move data between memory, flash storage and disk depending on access patterns, he said.
Ellison also unveiled the M6-32 Big Memory Machine, a solution based on the Oracle in-memory database technology. The M6-32 Big Memory Machine is a hardware platform featuring 32 TBs of DRAM, Oracle's new SPARC M6 processor, and a silicon-based interconnect that provides 3-TB-per-second bandwidth.
"It's the fastest machine available for in-memory databases, he said.
NEXT: New In-Memory Database Appliances, Processors, Database Backup
Advanced Systems Group's Kellough said the Oracle in-memory database solution looks very interesting.
"The rest of the IT industry is adding flash to their systems to speed performance, which is faster than spinning disk," he said. "Oracle is now providing even more efficiency by adding memory to the solution.
"Ellison's demo showed even better numbers than claimed," he said. "How does it compare on typical workloads? We don't know yet. But the technology approach is interesting."
The new SPARC M6 12-core processor on which the M6-32 Big Memory Machine is built is similar to the SPARC M5 but has double the number of cores and costs the same, said John Fowler, Oracle's executive vice president of systems.
The SPARC M6 was released only six months after the release of the SPARC M5 and the SPARC T5 processor, Fowler told solution providers attending Oracle OpenWorld.
"You can book and take orders now," he said. "This is not a theoretical thing."
Ellison also used Oracle OpenWorld to introduce the Oracle Database Backup, Logging and Recovery Appliance, designed specifically for backing up and restoring data bases.
The new appliance works by backing up log changes related to changes in the database as they happen so that an up-to-the-minute copy of the data can be restored at any point in case the production version of the database goes down, Ellison said.
PUBLISHED SEPT. 23, 2013