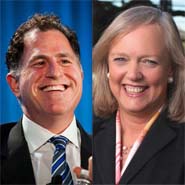 Michael Dell and Meg Whitman lock horns in battle for server market share
Hewlett-Packard grew worldwide server shipments by more than 5 percent in the third quarter, halting a slump of eight consecutive quarters of shipment declines, according to preliminary market data from Gartner.
At the same time, Dell's worldwide server shipments, which in the second quarter fell just shy of HP's, plummeted by more than 14 percent in the third quarter as the company raced to close a $24.9 billion leveraged buyout spearheaded by Dell Founder, Chairman and CEO Michael Dell.
HP's turnaround came in the quarter that started about one month after CEO Meg Whitman pledged to step up the server battle with Dell, saying she would not accept "very aggressive competitive pricing" from Dell or others as an "excuse" for poor sales performance at HP.
[Related: Behind The Numbers: Analyzing Gartner's Q2 Server Estimates]
Those preliminary Gartner server sales numbers, which were made available to certain Gartner customers and confirmed Gartner Research Vice President Jeffrey Hewitt, show that the total number of servers sold in the third quarter reached 2.49 million units, up about 1.2 percent from the 2.43 million units shipped in the third quarter of 2012.
Palo Alto, Calif.-based HP sold 669,129 units during the third quarter, up 5.4 percent from 629,213 units in the third quarter of 2012, according to Gartner's preliminary worldwide server market data. HP's market share for the quarter climbed to 26.9 percent, up from 24 percent in the second quarter of 2013.
The last time HP saw growth in worldwide server shipments was the second quarter of 2011, according to Gartner.
Round Rock, Texas-based Dell shipped 484,607 servers during the third quarter, down 14.1 percent from 564,475, according to Gartner's preliminary results.
That drop gave Dell a market share of about 19.5 percent, down from its second quarter 2013 market share of 22 percent, Gartner said.
Should Gartner confirm that drop in early December when it releases its final server shipment estimates, it could slow Dell's enterprise transformation.
Uncertainty around the setback could also play into HP's hands. Whitman in August pledged to step up the server battle with Dell to go after its installed base.
"What I will tell you is a lot of customers are nervous about Dell," Whitman said. "What I can tell you first hand is uncertainty is not our friend in the business."
NEXT: Understanding What Went Wrong For Dell
Dell's sales drop appears closely related to confusion caused by its move to go private, said Chris Case, president of Sequel Data Systems, an Austin, Texas-based solution provider and long-time HP solution provider.
"Dell's going private created a lot of unknowns," Case said. "There was talk about slashing people. A lot of concerns."
Case said customers were worried about what would happen at Dell during the privatization battle.
"It's just like when HP a year or two ago took a big hit when there was talk about spinning off the HP PC business," he said. "Dell is in disarray. HP is coming out of disarray."
Another HP solution provider, who requested anonymity, said Dell's pricing has been extremely aggressive as it prepares to battle without investors' watchful eyes.
"They think, screw Wall Street, we're going private," the solution provider said.
That solution provider said HP's upcoming new server management software is also helping HP attract business from Dell.
It has recently become more difficult, or at least less easy, to buy Dell servers, said Christopher Buono, team manager for Paragus Strategic I.T., a Hadley, Mass.-based solution provider and Dell partner.
Dell's website makes it difficult to get price quotes, and partners have to jump through several hoops to take advantage of the vendor's channel program, including communicating with the company three or four times in order to get the best price, Buono said.
"In the past, we could go to one place, log in and save a quote," he said. "Now we have to take a snapshot of a quote and email it to the sales reps. It can take three to four back-and-forths to get the price we need."
HP declined to directly address Gartner's preliminary third-quarter server sales.
However, Paul Santeler, vice president and general manager of the Hyperscale Business Unit within HP's Industry Standard Servers and Software business, said his company has a lot of respect for its competitors.
"That said, this is a battle," Santeler said. "We're out here to win. Our goal is to change the trend. And these quarterly results show that the trend has changed."
NEXT: Dell, HP Talk About The Server Business, But Not Numbers