Page 2 of 2

IT departments will bristle at the Chromebook's lack of user control over hardware settings. Chrome OS offers virtually none except touchpad sensitivity and tap-to-click, and a WiFi radio toggle. File system access consists of raw listings of internal (SSD) and external (USB 2.0) devices that appear in a browser window, as does everything else in Chrome OS. The absence of a "Finder" or Windows desktop will take some getting used to, particularly by old-timers like us.
We like the way the the cursor is controlled by the Chromebook's large touchpad, which works in a way more similar to that of Mac OS X than Windows. A quick touchpad tutorial appears when first starting the machine to demonstrate how to right-click, two-finger scroll and drag and drop. Once you're accustomed to this style, it's hard to go back to the norm for Windows.
Disabling the system's power-saving features, normally a part of our battery test methodology, was not an option. And Chrome OS also is unable to play AVI files out of the box, so we streamed a movie from Hulu.com and cranked up the screen brightness to its maximum of 300 NITs. As we wrote this, the machine had been playing "Clerks" continuously for four hours and forty minutes, and its dual-display batery status icon still showed 23 percent battery life or about 1:30 remaining.
During part of this lenghy video playback, we tested and explored other Chromebook features, and as such had as many as 15 tabs open at a time. What we discovered was that when returning to a tab that was inactive for a long period of time, an error was displayed showing the same humorous folder-face image and non-specific message. This happened at least 10 times during our tests, and should send up some red flags. There appeared to be no feedback system to report such errors to Chrome OS developers.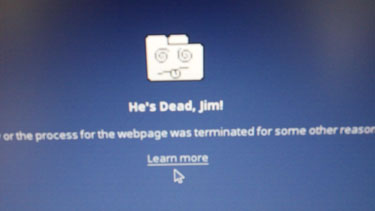 There's no question that the $500 device will be popular among today's social youth, who spend enormous blocks of time tweeting, Facebook chatting and video calling. All of these services come quite naturally to Chrome OS, and there's already a shriving community of users, developers and evangelists. The real issue is whether Chromebook will be versatile and secure enough for the enterprise. That remains to be seen.

<< Previous | 1 | 2