Page 1 of 4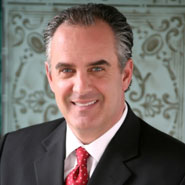 Mike Parrottino
Hewlett-Packard Vice President Personal Systems Group (PSG) U.S. Channel Sales Mike Parrottino, who gave a keynote address before several hundred solution providers at the XChange Solution Provider 2012 Tuesday, spoke with CRN Editor News Steven Burke about the company's commitment to partners, PSG channel sales growth, possible new incentives aimed at getting partners to sell the full HP portfolio, and the HP mobility road map for 2012. Below are excerpts from the interview.
There is some fear about cutbacks in the wake of HP's recent quarterly results. What kind of investments are you making in 2012 to make sure HP maintains its strong channel legacy?
We grow our channel investments in direct proportion to the revenue and the mix that we have with our products. We have grown our business. In PSG we grew at 23 percent last year. We are on pace to grow at 10 percent this year. And our channel investments quite frankly follow that. When you are driving a particular revenue number and your gross margin is decent you can afford to reinvest.
We are investing because we have grown year over year over year. As a percentage of our revenue, our investments have increased and are going to continue to increase. We are not pulling back on anything. We are not pulling back on a single thing. If you listen to the leadership team about how important the channel is driven from (HP CEO) Meg (Whitman) on down, I just don't see us stopping. I think the channel is going to grow faster. We have proven that out over the course of many, many years.
[Related: After Rocky Q1, HP CEO Whitman Makes Cost Cutting Top Priority]
So what isyour message to partners concerned about the state of HP?
Listen, the year before last was a tough year for everybody with the economy. During those tough times, we actually doubled our resources focused on partners. That is headcount, op-ex (operating expenses) for Hewlett-Packard. We didn't reduce. We saw an opportunity to reinvest in our channel. And we doubled our field sales organization that works with partners to drive more revenue in markets where we were underpenetrated, like SMB.
We grew SMB (sales) 32 percent year over year (at that time) and it was because we took the opportunity to invest in HP headcount co-selling with our partners. We did hundreds of events with partners in rooms like this to talk about Hewlett-Packard and the partner's ability to deliver value to the customer.
We acquired a heckuva lot of net new customers and we did it because we co-invested with our channel partners. The other thing we did was co-fund (HP) Champions within our partners. The headcount belongs to the partner, but they are focused on HP. That is one single point of contact into a partner to manage everything from notebooks all the way to servers and storage. Now when the partner has questions about Hewlett-Packard, they can go to their Champion and get answer across the full portfolio so you have a single point of contact.
We made huge co-investments with our channel partners. All of those things are indicative of our continued support and commitment to the channel. Those aren't signs that we are pulling back.
Next: HP VP Parrottino Talks About PSG Channel Sales Growth

1 | 2 | 3 | 4 | Next >>