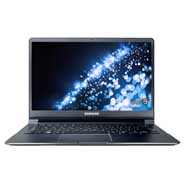 Samsung ATIV Book 9
Samsung might not be offering Ultrabook models with Intel's power-efficient fourth-generation Haswell processors until the fall, but the ATIV Book 9 performed well without it. With its third-gen Core i7, Samsung's latest ultraportable turned in better battery life than its predecessor, and serviceable benchmark scores.
One of the most recent arrivals at the CRN Test Center, the ATIV Book 9 is one of a series of new ultralights from Korea. In all, Samsung offers seven 13-inch ATIV models (formerly known as Series 9) ranging in price from $999 to $1,699 list. Two $999 entry-level models are offered with 128-GB solid-state drives plus different versions of the Intel Core i5 processor at different clock speeds and Intel HD Graphics editions. Four models are available with faster, more powerful Intel Core i7 processors and options for upgrading to 8-GB RAM and SSD capacity of 256 GB. Operating system options are Windows 7, Windows 7 Pro and Windows 8. The test unit was running the latter.
All ATIV Book 9 models have two cores. Between its Core i5- and Core i7-based models, Samsung's clock rates (without Turbo Boost) range between 1.7GHz and 2.0GHz. Its most powerful, the ATIV Book 9 NP900X3E, comes with the 2.0-GHz Intel Core i7 3537U and is the unit we tested. All but one of Samsung's seven 13-inch Ultrabook models come with Intel HD 4000 Graphics. The exception is the ATIV Book 9 model NP900X3D, which includes a 1.4-GHz Intel Core i5 2537M CPU and Intel HD Graphics 3000 and 1,600-x-900 maximum resolution. Resolution of Samsung's $1,399 high-end model tops out at 1,920-x-1,080, full HD.
NEXT: Power, I/O And PerformanceSamsung includes a 44 watt-hour, 4-cell lithium polymer battery that's rated to deliver "up to 9 hours" on a charge. Before testing the battery, we charged it fully, discharged it completely and then recharged it again. With Samsung's power-saving features enabled, we surfed the web and checked email (over Wi-Fi) for about an hour, with the keyboard's LED on level three but letting Samsung adjust the screen's brightness.
Then it was time for a movie. We killed the keyboard light, cranked the screen brightness to full and played an endless loop of Breck Eisner's 2010 version of "The Crazies," with its 1:40 running time including credits. We got to watch Timothy Olyphant shoot the town drunk (the movie's intense opening scene) four times before the battery gave out. Total time on battery was exactly five hours and 12 minutes, about 15 percent longer than its predecessor.
It's worth noting that despite system activity (a running movie), Samsung's power-saving plan still dimmed, then blacked, the screen and tried to put the system to sleep. To complete the battery test unattended, we had to depart from our normal procedure and disable those actions.
In a prior review of Samsung's Series 9 the Easy Settings panel also brought up a Samsung-only function called Fast Boot mode. Control of this feature appears to be gone, but its effects are not. On our Windows 8 test machine, we timed a cold boot at less than eight seconds and returning from sleep at less than three seconds. Samsung has this performance nailed.
Geekbench performance of the new ATIV Book 9 is about half-a-thousand points slower than its predecessor. Last year's Samsung Series 9 model NP900X3C delivered 8,454 on Geekbench 2.3, while the tested ATIV Book 9 NP900X3E turned in a high Geekbench 2.4 score of 7,923.
NEXT: Look, Feel, Fit And FinishMost impressive out of the box is the ATIV Book 9's slender look and feel; its metallic finish is cool to the touch and resistant to smudges. It's also got an 8.2-square-inch smaller footprint and is almost a half-pound lighter than king-daddy Apple's MacBook Air. The full-sized keyboard is comfortable and comfortably backlit, with five levels of brightness controlled by dedicated FN keys.
A lighted function lock key along the top row means that Samsung has finally realized that people adjust brightness and speaker volume more often than, say, they print docs or quit apps. With FN lock-enabled, these are one-finger ops as on a Mac. And why not? The Ultrabook spec was modeled after MacBook Air. We were surprised to see that when the function lock key is enabled, normal F-key operations are inoperable. We expected the function-lock to be reversed when pressing the FN key, similar to shift-lock operation.
Additional FN keys are dedicated to enabling an external monitor (using an optional mini-HDMI connector), toggling the touch-pad and system fan and invoking Samsung's Easy Settings panel. Visual on-screen indicators appear only when adjusting volume and screen brightness.
The Easy Settings panel unites power management, network, display sound, touchpad and some general controls in a single place, making Windows configuration and troubleshooting more convenient. This is especially helpful for Windows 8, which spreads out Control-Panel functions more than in prior versions.
For charging, there's a 40-watt AC adapter with detachable IEC C5 "Mickey Mouse" power cord and cylindrical right-angle power connector for the DC power. The connector is thinner than most and tended to slip out of its socket during tests. With the lid closed, there's no way to know if the battery is charging. An LED above the ESC key indicates AC power and charging status. The battery is not user-replaceable.
NEXT: The Bottom Line
Samsung's seven ATIV Book 9 models all offer roughly the same array of inputs and outputs, with just some slight variations on the media card readers. All come with one each USB 3.0 and USB 2.0 with sleep charge, microphone/headphone combo jack, multicard reader (3- or 4-in-one, depending on model), and Gigabit Ethernet port (with required adapter). There's also a VGA and Micro HDMI ports, both of which require an optional adapter. Samsung also packs a pair of 1.5-watt speakers, internal mic and HD webcam. The tested unit has a 4-in-1 reader. As for wireless communications, Samsung offers dual-band Wi-Fi 802.11 a/b/g/n, Bluetooth 4.0 and wired Gigabit Ethernet with an included RJ45 adapter. Samsung also supports Intel's emerging Wireless Display (WiDi) spec.
The ATIV Book 9 series of Ultrabook devices is compelling, and Samsung delivers major innovations and improvements to system responsiveness and control. And with its seven Ultrabook models, Samsung does offer more flexibility in terms of processor and graphics options than the typical Ultrabook maker. The higher-end $1,399 Samsung ATIV Book 9 we tested delivers a 1.7-GHz Intel Core i7 processor with 256-GB SSD, 4 GB of RAM and 1,920-x-1,080 display driven by Intel HD 4000 Graphics running 64-bit Windows 8. We look forward to seeing longer battery life this fall, when ATIV Book 9 units are built around Haswell.
PUBLISHED JULY 17, 2013