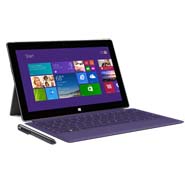 Microsoft Surface Pro 2
Microsoft is pushing hard to get solution providers to understand its mobile strategy and develop their own as quickly as possible given how quickly the IT industry is moving toward mobility and the cloud.
That's the message from Josh Condie, partner technology strategist for Microsoft SMB and distribution, who on Monday told solution providers at the Ingram Micro VTN conference that Microsoft has been shifting its focus away from package software to two new pillars: mobile devices and services.
"Mobile is the new normal," Condie said.
[Related: Microsoft Partners Say Windows 8.1 Improvements Could Lure More Users]
Microsoft's mobility focus really started with Microsoft's 2005 acquisition of Groove, which was done primarily to get Ray Ozzie, CEO of Groove and the original developer of Lotus Notes. Ozzie, who became Microsoft's technical strategist after Bill Gates stepped down, pushed to move every packaged software application to the cloud, Condie said.
"With the cloud now a very mature strategy, we're going to focus on mobility," he said.
Getting customers to follow Microsoft to a cloud-first strategy means rethinking Windows as a "shell" in which the operating system really fades into the background, Condie said.
"When we interact with our devices, we don't think about Windows," he said. "We think about the experience."
This is the perfect time for such a shift, Condie said. Microsoft just last week started shipping its Windows 8.1 operating system, a much-improved version compared to Windows 8, while Intel's new Atom and Haswell chips are starting to fill in the gap for mobile processors and peripherals such as wireless printing that are starting to hit the market, he said.
While Apple's iPad and iPhone are the most common mobile devices, the big difference in approach to the mobile market between that company and Microsoft is that Apple devices are more often purchased as an additional device, and rarely as a replacement device, Condie said.
Microsoft's Surface devices, and other Windows 8.1 mobile devices, are more likely to be purchased as a replacement for existing devices by business users who can choose one or more different devices depending on their requirements, he said.
NEXT: Office 365, End Of Windows XP Support To Drive Mobile
Another big part of Microsoft's mobile push is Office 365, especially the Microsoft SharePoint component, Microsoft's Condie said.
"Customers can use it to create apps that are mobile-enabled because they are cloud-based apps," he said.
Office 365 was designed for collaboration between not only users but also multiple devices, Condie said. A single Office 365 license allows it to be installed by a user on up to five compute devices and up to five mobile devices including mobile phones such as iOS and Android devices, for a total of up to 10 devices, he said. This is the same for companies ranging from small businesses to enterprises.
"The goal is to create a consistent experience across not just one device but across all devices," he said.
It is especially important for solution providers to get ready for Windows 8.1 now that Microsoft has announced April 8, 2014, as the day support for Windows XP and Office 2003 will end, Condie said.
This will result in a massive security issue, given that Microsoft every month issues a security bulletin on known vulnerabilities, and then addresses them, he said.
"After April 8, those releases will not include Windows XP," he said. "After the May vulnerability report is released, people will be looking at the report and testing those vulnerabilities against Windows XP."
Condie also urged solution providers to move customers from Windows 7 to Windows 8.1, which will provide them much higher security and faster boot times and performance than Windows 7, he said.
"But, you need to get over some of the initial perceptions caused by Windows 8," he said. "We're talking Windows 8.1 now."
Microsoft's OEM partners are developing tablets, 2-in-1 convertible laptops, traditional laptops, and all-in-one PCs based on Windows 8.1, with 8-inch tablets based on the operation system expected to ship for less than $250 by year-end and value PCs for less than $300, Condie said.
Microsoft, meanwhile, will be shipping its Surface 2 Pro for business users in the near future. It will have a docking station that allows the tablet to be used as a desktop PC when docked but reverts it to tablet functionality when slid out of the dock, he said.
"This addresses all the gaps not present before the Surface and with Window 8," he said.
NEXT: Getting The Message To The ChannelHowever, in response to a question from a solution provider, Microsoft's Condie said he cannot say for sure when they will be able to access the new Surface 2 Pros from their distributors, other than it is expected soon.
He said he expects a channel strategy to go in place soon after the Surface 2 Pro is released next Tuesday, Oct. 29.
An Ingram Micro staff member in the audience said the distributor is working with Microsoft to develop a timeline for the Surface 2 Pro.
Condie's presentation was a reminder to make sure and get the word out to customers about the need to get going on their migration to new versions of Windows and Office, said Patricia Gonzalez, business development manager at Centre Technologies, a Houston-based solution provider and Microsoft partner.
"We have a monthly newsletter for customers," Gonzalez said. "We need to remind customers that on April 8, 2014, Windows XP and Office 2003 are going away. We want to make sure they are aware of the security risks of not migrating."
Gonzalez also said she looks forward to talking to customers about Windows 8.1, starting with how much different it is from Windows 8. "The biggest issue was the lack of the 'Start' button," she said. "Sure, customers could get the same effect in other ways. But, people in small businesses want to just get things done. They want to do their jobs and move on."
Gonzalez said her biggest takeaway from Condie's presentation was about how much Microsoft has enhanced Windows 8.1 and how well it is articulating its mobile strategy.
"It's all the simple things that Microsoft has changed, like adding the 'Start' button and reboot feature," she said. "We need to educate customers about the future, and not just about what's happening today."
PUBLISHED OCT. 21, 2013