Page 1 of 2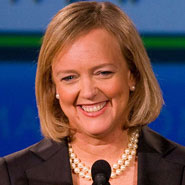 Meg Whitman
Hewlett-Packard CEO Meg Whitman got her chance to publicly respond to comments made last month by friend and rival John Chambers, telling an audience of CIOs that she would rather be in her current position than serving in Chambers' position as chairman and CEO of Cisco.
"I'd rather have my hand than John's hand right now," Whitman said at a question-and-answer period during her Mastermind presentation at this week's Gartner US Symposium/ITxpo in Orlando, Fla.
Whitman was responding to a question from Yvonne Genovese, managing vice president for analyst firm Gartner, about comments Chambers made last month in a Bloomberg article.
[Related: Chambers On The Record: How Cisco Plans To Become The No. 1 IT Company]
Genovese said Chambers a couple of weeks ago said, "She's doing this out of the kindness of her heart. And I would have told her not to. Mathematically, you have to say low odds."
However, she said, Chambers during his Tuesday Mastermind presentation at the Gartner conference corrected himself by saying, "If anybody can fix HP, it's probably Meg and [HP Executive Director] Ray Lane." At the same time, Genovese said, Chambers called Whitman a friend, and said, "But I'm in it to win it."
Politically, it sounds like Chambers was walking back on his earlier comments, Whitman replied.
"John is a dear and good friend, but in certain areas of the market we compete, and we aim to win," she said. "In the networking space, which is his core business, we now have 18 percent unit share, 11 percent [revenue] share, and we're moving fast. I think when you put 320,000 HP people against a set task, don't bet against us. So we're fierce competitors, and we'll see how it all works out in the end. I'd rather have my hand than John's hand right now."
HP, which directly competes with Cisco in the networking and server markets, has to deal with perceptions in the market that the networking and server businesses are moving toward commoditization, Whitman said.
It is a perception she is trying to refute.
NEXT: HP Innovation Fights Server, Networking Commoditization