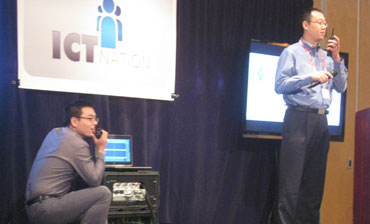 Huawei's Wei Tang (right) demos the 2U portable eLTE professional trunking solution.
Huawei Enterprise U.S.A. this week introduced a number of channel initiatives to its solution provider partners, including an upcoming networking design application that provides partners that input a potential solution from arch-rival Cisco an immediate layout and cost plan for a corresponding Huawei solution.
Huawei Enterprise also showed off a number of new networking and communications technologies it expects to release in the near future, including a 2U portable eLTE trunking solution for first responder and other uses.
The channel and product news were presented at the Huawei Partner Summit, held this week in Cupertino, Calif.
[Related: Huawei Enterprise Comes Out Swinging At Cisco, Others Over Their Lack Of Innovation]
Much of the conversation at the Huawei Partner Summit revolved around what the company calls the integration of information and communication technologies, or ICT, and is the base on which Huawei has built its new ICT Nation community of vendors, partners and customers.
Young Wang, IP product manager for Huawei Enterprise, told solution providers that currently have experience with networking solutions from rivals that moving to deploy Huawei solutions will be easy.
"If you know Cisco, you can sell Huawei," Wang said. "If you know [Hewlett-Packard], you can sell Huawei."
One of the new partner tools Huawei Enterprise plans to bring to its channel is the Product Mirror Tool, which can quickly provide an equivalent Huawei networking solution for any Cisco solution partners find, Wang said.
With the Product Mirror Tool, scheduled for release in October, a Cisco networking partner can build a Cisco solution, and the tool translates it into a Huawei solution while automatically generating a price list, he said.
Huawei Enterprise's network simulator application, which currently helps show customers how the company's routers and switches work, will soon be upgraded to include the company's firewall and WLAN products, Wang said. The simulation includes the actual Huawei operating system, he said.
Wang also demonstrated a new network planning tool. Partners that input the number of access points, the quality of services needed, and whether the network will be used for normal office purposes or for streaming video immediately receive a report with a suggested solution.
NEXT: Sneak Peek At Upcoming SolutionsOther tools available to Huawei solution providers include a pocket library with information on all the company's products, a product selector, an on-line configuration tool and a WLAN planner.
Helen Chu, principal engineer for Huawei's @Enterprise IP solutions, demonstrated a new WLAN lifecycle management tool called Paris II. Paris II can be used to scan a room for WLAN availability and pass the information to Huawei's eSight WLAN management solution to get a map of that availability.
Chu demonstrated Paris II by turning on her mobile device's camera and turning around to scan the entire room. The camera overlaid the WLAN availability on the image of walls in the room.
Price and availability of Paris II are not yet available, Chu said.
Sazeed Sam Haque, director of sales at Netfast Technology Solutions, a New York-based IT solution provider and Huawei partner, called Paris II a real game-changer for channel partners in terms of how they handle their billable hours.
"With Paris II, I will be able to send out a sales guy or a base-level engineer, and not a high-level engineer, to look at the WLAN environment," Haque said. "The data can be combined with a topological map to show the environments. And it's very cool to show these capabilities to customers."
Huawei Enterprise also gave an early look at some new product-based solutions it plans to unveil in the near future.
Xiaoming Chen, SDN solutions architect for Huawei, said his company is working to build a software-defined networking solution in conjunction with Microsoft and its System Center technology.
The solution will be an SDN gateway for bridging SDN and non-SDN networking environments to handle the large traffic going in and out of data centers.
The joint Huawei-Microsoft SDN gateway is expected to be unveiled next month at Microsoft's TechEd conference.
Wei Tang, 4G LTE solutions specialist at Huawei, used the conference to demonstrate the company's new eLTE (enterprise LTE) technology.
The company currently has a 14U eLTE solution, but in the third quarter of 2013 it plans to introduce a 2U version that supports up to 4,000 subscribers, Tang said.
The new eLTE solution comes in two suitcases, and it can be used to deploy a private LTE network with a 100-kilometer radius within 20 minutes, Tang said. It features an uplink bandwidth of over 100 Mbps and a downlink bandwidth of 50 Mbps.
NEXT: Portable 2U eLTE SolutionDuring his demonstration, Huawei's Tang and his colleagues showed LTE handsets with built-in LCD screens and cameras so that multiple users could pass real-time video to each other, making it an ideal solution for first-time and follow-up responders.
At one point in the demonstration, one of the handsets was placed in a bowl of water from which it continued to send real-time video.
Netfast's Haque said he sees Huawei's 2U portable eLTE solution as being ideal for both fast, temporary wireless deployment and deployment where other wireless solutions are not suitable.
"We have an enterprise client with about 270,000 acres of land connecting Northern and Southern California," he said. "We built their wireless infrastructure. But, how do you light up mountainous areas? You can use a microwave solution if you build new towers. Or, you can use eLTE to build the services."
Netfast also deals with contractors who go to bridge or tunnel sites with low or no wireless coverage, and Huawei's portable eLTE solution would probably work well there, Haque said. "And if the U.S. ever gets over its security concerns about Huawei, this could be a good solution for government and military customers."
PUBLISHED MAY 24, 2013