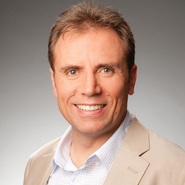 Gavin Struthers
McAfee executives say they are seeing strong growth throughout the company's broad security portfolio with systems integrators winning deals four to one. At the recent McAfee SecurityAlliance Partner Summit in Las Vegas, the security vendor's sales team highlighted many of its channel partner successes.
The company's top 25 partners grew 25 percent in the past year, including more than 30 percent growth in sales of its network security appliances. The company said is on track to see 36 percent growth in sales with Accuvant and more than 50 percent growth with Fishnet, but smaller resellers need additional support, said Gavin Struthers, senior vice president of worldwide channel operations at McAfee.
In a recent interview with CRN, Struthers explained how McAfee is investing in distributors like Arrow Electronics, Ingram Micro and Tech Data to help fuel growth in 2014. There are also changes ahead to the company's SecurityAlliance Partner Program to bolster sales in the small and midsize business segment. Here are edited excerpts from the interview.
[Related: McAfee Partner Summit: 10 Ways McAfee Executives Engaged Channel Partners]
How important are distributors to McAfee?
Distribution is important for us. They're important for volume. They have the ability to do the end-to-end sales and delivery and banking and credit most effectively across hundreds of vendors. That is the volume play. They are very efficient with that. The value-added distributors do a lot of presales work. They'll invest in expertise and help the resellers sell more complex solutions. They'll hire presales technical sales guys and run training. They do proof of concepts and demos and basically run right into the field with the partners to do deals. They're important in emerging markets and smaller markets. In Japan, there's a distributor there that does pen testing and proof of concepts in their lab, proving that they've got a lot of expertise.
What value do U.S. distributors bring to the channel?
In the U.S., it's more volume oriented or SaaS and cloud oriented. As we evolve routes to market, distribution has to evolve too or risk losing out. Many of them want to be in cloud and aggregate billing. If you are a managed service provider and you have 10 vendors that do monthly billing and reporting, they can aggregate that. If they put in parallels, they can do multivendor billing on monthly recurring revenue for resellers. That's huge value. Arrow Electronics, Ingram Micro and Tech Data are all over that.
What other programs does McAfee do with distributors?
If you look at segments, commercial and SMB, we run funded programs where they go and recruit resellers. We have a distribution recruitment program. We pay them. We'll pay them a percentage of the business that they generate with a dormant reseller that transacted with McAfee longer than four quarters ago or a new reseller. We give them rich profitability on the back end of that. They'll do modeling on who is ... current and who is dormant, and they'll go after them and try to bring them into their program and then they'll make back-end rebate on it.
NEXT: SecurityAlliance Partner Program ChangesThe partners were warned that the SecurityAlliance Partner Program could face some significant changes moving forward. What changes are planned?
Through time and the acquisitions, more technologies and new routes to market that we're adding, like managed services and SaaS, which came through the MX Logic acquisition, we've been bolting on a lot of things to the SecurityAlliance Program. As we add more, the program becomes less refined over time. We just want to refine it. Instead of having five areas or competencies that you would have to certify in, we'll probably want to collapse that to three. It would be easier to then become certified and move through the levels in the program. We're not announcing a timeline on the changes.
We also want to go harder and faster into the midmarket. Ironically most of our products will sell into the midmarket. When you are a 100-user organization, you need endpoint security, network security and level of security management. You'll probably need three or four solutions integrated to deliver end-to-end security.
McAfee will remove the payout cap on rebates beginning next year, which made some partners happy. What is behind that move?
We had a 200-percent cap, but some of the partners are growing so fast that at 200 percent they feel unhappy because they've missed money. They could have grown 300 to 400 percent this year. It's upsell. If you take our endpoint suites, we've had a very good run of moving to the new suites. It's new product sales like security information event management (SIEM.) And, it is also displacements. We're winning deals 4-to-1. When we're winning, we're displacing.
Top McAfee executives said the company's engineers are busy making improvements to the data orchestration layer to integrate the portfolio of product. Is e-Policy Orchestrator (ePO) not working long term? Are partners encountering challenges with product integration?
It is sort of like a phase 1 or phase 2. Phase 1 is security connected with McAfee products with ePO as the bus or the connection between products. That is here today. We integrate 50-plus products of our own into ePO. Security innovation alliance partners add to that; there are over 200 SIA partners. Where we're going with that is phase 2. You have a data exchange layer that allows integration with anyone in any cloud. You have to have APIs that allow you to do sharing between any systems. We have it in the McAfee world and extended McAfee world through the SIA partners, but we want to extend that broader and further across the SIA landscape.
PUBLISHED OCT. 15, 2013