Printer-friendly version
Email this CRN article
Earlier this month, Edison Peres, a former channel vice president at Avaya, joined Cisco Systems as vice president of emerging technologies for the worldwide channels group. In his new role, Peres will focus on building an "ecosystem" of partners to sell and implement new Cisco technologies. His first efforts will be in IP telephony, storage and wireless. Peres spoke with CRN Infrastructure Editor Larry Hooper.
CRN: What do you see as your function in this new position and what do you hope to accomplish?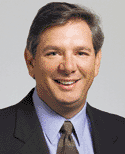 Edison Peres, Cisco Systems Vice President of Emerging Technologies for the Worldwide Channels Group.
PERES: I'm going to be focusing on a few different emerging technologies opportunities for Cisco: IP telephony, wireless and storage, to name a few. The objective is simple: Work with our worldwide channel partners, creating an ecosystem. I love that term because it really does describe working on an approach with our business partners and ISVs to create a new opportunity in the marketplace for them and for Cisco. The vision is to create the next billion-dollar opportunity for Cisco and our business partners. [The term "business partners" I use generically to [describe our channel partners and ISVs and those that add value.
CRN: What will that look like?
PERES: Think about it this way. If you think about these new technology areas, there are still value propositions that need to be put in place, both by Cisco as well as by our channel partners to capitalize on those. So the objective here is to develop some strategies that allow for focus in those areas and to develop programs that allow us to exploit those opportunities in those marketplaces. If you think about the traditional marketplaces around switches and routers but now bounce into the voice world or the storage world, what we need to put in place to ensure success for us and our channel partners is different.
CRN: Some channel partners say they like the specializations, but the investment in staff and training is making them less competitive against non-specialized partners.
PERES: We'll definitely look at that. I have not heard from anybody that the concept of specialization is not a good one; in the long term, specialization develops value as well as sustainability for business partners. So, theoretically everybody is happy with the concept. I think that there are some comments coming back that in certain technology areas there are some issues.
CRN: Some of these technologies, IP telephony for example, are turning out to be more than some solution providers can handle. Is the current training in place enough?
PERES: We'll probably take a three-pronged approach to that. I think there is a certain segment of your traditional data reseller or channel partner that has the capability to get into that new market. I think that there's going to be an opportunity for Cisco to appeal to the traditional voice reseller and offer them a value proposition to not only sell the Cisco voice products, but also get into opportunities they may not have been involved in before,maybe traditional data.
Then I think the ISVs, those that add value with new applications, are another area. So I see that there will be a certain segment of the data resellers that will not be able to make the conversion. They don't want to or they don't have the capacity to or they're just comfortable in the traditional space they have been in. My view is that the creation of the channel for IP, for example, will be a combination of those three: some traditional data, some traditional voice-only [resellers that make the conversion, and ISVs taking advantage of the new application opportunities.
Printer-friendly version
Email this CRN article