Printer-friendly version
Email this CRN article
Hitachi GST on Monday unveiled two new 4-TB hard drives, including a 4-TB desktop drive and an external stackable model.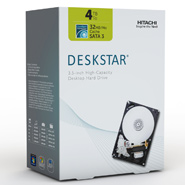 Hitachi Deskstar 5K4000
However, solution providers whose customers run older PCs with 32-bit operating systems may want to first take a breath, as older PCs cannot handle more than 2.2 TBs of capacity on a single drive without some work involving partitions and different drivers.
Hitachi GST, which is in the process of being acquired by Western Digital in a $4.3 billion deal, is also providing information to customers on how to take advantage of the larger capacities of its new drives.
Hitachi GST has already started shipping the new bare drive in a retail version via retail channels, but plans to offer both in quantity starting the first quarter of 2012.
Rival Seagate is also planning early next year to come to market with 4-TB hard drives, including a hybrid model featuring an internal Flash memory SSD.
One of the two Hitachi GST models, the Deskstar 5K4000, is a 3.5-inch hard drive with a 32-MB cache and a 6-Gbps SATA interface. It also includes the company's CoolSpin technology, which spins the platters at varying speeds to keep energy consumption at up to 28 percent less than its higher-performance 7,200-rpm models.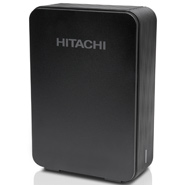 Hitachi Touro Desk External Drive
The retail version of the Deskstar 5K4000 includes mounting screws and software for running on 32-bit and 64-bit Windows, Apple, and Linux systems. It is currently available via retailers with a price of $399.99. Bare drives in bulk packaging for system builders are slated to ship in the first quarter of 2012.
The second model, the 4-TB Touro Desk External Drive, features a 4-TB hard drive in a black, textured external case with a USB 3.0 interface. It includes a free 3-GB cloud storage account from HitachiBackup.com.
The 4-TB Touro is slated to ship in January with a list price of $419.99.
Printer-friendly version
Email this CRN article