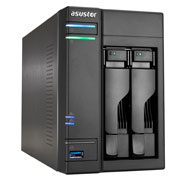 Intel Atom processor D2550/D2500
Intel on Thursday introduced a new Intel Atom processor-based NAS platform targeting consumers and SMB customers looking to build a personal storage cloud that allows remote access of data stored in the NAS appliance.
Intel also introduced three smaller storage vendors that are shipping NAS appliances based on the platform through online and distribution channels.
The new personal storage cloud NAS platform is built on the Intel Atom processor D2550 or D2500. Unlike previous versions of the Atom processor Intel has used for its NAS platforms for nearly four years, these new processors include integrated high-definition video and HDMI capabilities, said David Tuhy, general manager for the Intel Storage Division.
[Related: Western Digital Enters Small Business Storage Appliance Market]
"Adding video and video graphics has been a direction for our customers, so adding HDMI video to these processors has helped a ton," he said.
NAS appliances based on the new Intel Atom NAS platform are already available from three Taiwan-based storage vendors, including QNAP Systems, Thecus and Asustor. Tuhy said he expects other vendors to offer similar appliances in the future.
When connected to a home or business network, the new NAS appliances provide centralized backup of all devices connected to the same network.
The appliances form the base of what Intel calls a personal storage cloud that allows remote users to access files on the NAS, either via devices connected to the network or via a Web-based interface.
Also included is the ability to connect up to four IP cameras directly to the NAS appliance to form a video surveillance system. Built-in hardware acceleration for high-definition content provides playback of both surveillance video as well as media videos downloaded or created by users.
The new Intel storage appliances support up to 4 GB of memory and, depending on model, up to six SATA hard drives with hot-plug capability. Customers can use the USB ports to add more storage devices as needed.
Data is protected by software-based RAID 0, 1 and 5, while security of the data is provided by McAfee, which Intel acquired in early 2011.
The appliances also provide content sharing and playback of high-definition video at up to 1,080p in real time, Tuhy said.
The three vendors are already shipping the new NAS appliances, Tuhy said. Prices are starting at around $299 for the two-drive version and about $500 for the four-drive version.
PUBLISHED OCT. 4, 2012