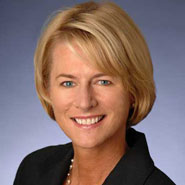 Julie Parrish
NetApp's channel chief has been promoted to chief marketing officer. Julie Parrish, who until this week was senior vice president of global partner sales, was appointed chief marketing officer after a search that involved both internal and external candidates. Parrish joined NetApp in 2008.
NetApp employees on Thursday were first notified of the move, Parrish told CRN.
Parrish said she is excited about the new role both from a personal and a business perspective, calling her promotion a win for solution providers and the company's channel organization.
[Related: NetApp 2Q: Channel Is Still The Growth Engine]
"There may be a little change for the channel going forward, but not as much as one might think," she said. "Over the last four years, I've been very outbound with partners, and expect to continue to be engaged with the channel. You'll see me step back a bit. But I'll be a very outbound CMO."
NetApp, which Wednesday reported its third fiscal quarter 2013 financials, said at the time that indirect sales channels accounted for about 82 percent of the company's total revenue, a new high for the company.
Parrish said her new role could mean an increased emphasis on channel-focused marketing and demand generation for NetApp. "We'll be looking more at how to do a better job of leveraging our 7,000 partners worldwide," she said.
Marketing is not a new experience for Parrish. She has held marketing roles at Nokia, 3Com, Veritas and Symantec.
Keith Norbie, vice president of Nexus, the Minnetonka, Minn., office of Stratos Management Systems, an Atlanta-based solution provider and NetApp partner, called Parrish a true professional and someone who has been an effective channel executive at the vendor.
"I like how she has a channel pedigree," Norbie said. "She'll bring it to her new role. She'll have the channel at the heart of marketing."
Parrish takes over the chief marketing officer position from Christine Heckert, who left the company in May to become the CMO at ServiceSource, a San Francisco-based provider of renewals management services.
Amy Love, who has been serving in the interim as acting CMO, will continue in her prior role of NetApp's vice president of brand and communications.
NetApp is looking for a new channel chief and will be talking to both internal and external candidates, Parrish said.
PUBLISHED NOV. 16, 2012