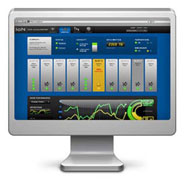 Fusion-io Flash
Flash storage hardware and software developer Fusion-io Monday said it has acquired ID7, developer of the open- source iSCSI target software that is at the heart of the Linux operating system used by several major storage vendors and a wide range of second-tier vendors.
With the acquisition, Fusion-io gets control of the development of the open-source SCST stack and remains committed to contributing to the open-source community, said David Flynn, chairman and CEO of Fusion-io.
[Related: EMC Outlines Software-Defined Storage Strategy, Plans Product Release This Year]
"The SCST stack is a default part of Linux," he said. "Anyone writing a storage operating system from Linux would contract with ID7 for commercial support. The SCST stack ships with Linux by default. But if you build storage systems, you generally use the commercial version. You don't want it to be buggy."
The SCST stack is currently used by top storage vendors including EMC, Hewlett-Packard and IBM, as well as a host of smaller storage vendors including InMage, Kaminario, Open-e, Qstar, Scale Computing and Starboard Storage Systems. Others include primary storage adapter manufacturers such as Emulex, Marvell and Mellanox.
Fusion-io has been a longtime customer of U.K.-based ID7, which was founded in 2006, Flynn said.
Fusion-io acquired ID7 to integrate the SCST stack more tightly with Fusion-io's ION Data Accelerator software, he said.
"We have been offering the ION Data Accelerator software-based storage appliance that incorporates Linux and the SCST stack in collaboration with ID7," he said. "We had a license for the commercial version. As part of Fusion-io, we can accelerate our integration for higher performance and reliability. And we cut our costs because we don't have to pay ourselves royalties."
The acquisition also accelerates Fusion-io's move to be a provider of software-defined storage technology, Flynn said. He called software-defined storage a software that includes all the features of a storage system but runs on top of commodity hardware.
NEXT: Fusion-io And Software-Defined Storage
"You get to use open, off-the-shelf servers with no need to pay the massive premiums for closed, proprietary storage systems," Flynn said. "That's a threat to companies like EMC. They're talking software-defined storage, but still trying to push their own proprietary storage. They were talking about VMAX as software-defined storage. That's like a mainframe vendor saying it's a PC company."
Fusion-io could have continued partnering with ID7 instead of acquiring it, Flynn said. However, the company decided it would be better to bring the ID7 engineers into Fusion-io.
"The SCST stack will continue to be an open-source project," he said. "Our ethos is around open systems, and open source is a part of it. This is a recognition that the way the cloud is developing will not support closed, proprietary systems."
PUBLISHED MARCH 18, 2013