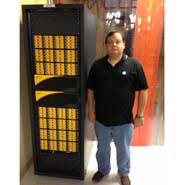 Kevin Madsen and his HP 3PAR storage
Christmas, Thanksgiving and Easter are times when most people are counting their blessings. But for the IT folks at HoneyBaked Ham of Georgia, the holidays were a time for counting how far they were behind in processing orders -- until help arrived from a local storage solution provider.
That solution provider, Atlanta-based VeriStor Systems, was able to alleviate HoneyBaked's peak business swings and give the company's IT department back some of its holiday spirit by upgrading its storage infrastructure with Hewlett-Packard 3PAR technology.
It was a most welcomed upgrade, said Kevin Madsen, IT infrastructure director at HoneyBaked Ham of Georgia, the Alpharetta, Ga., operation of HoneyBaked Ham, based in Troy, Mich.
[Related: HP's New 3PAR Storage Now Extends From Midrange To Enterprise, Targets EMC's VNX/VNXe]
HoneyBaked's business is seasonal, with daily sales volume rolling into the major holiday seasons growing by up to 10,000 times nonholiday volume, Madsen said.
"We were just not able to keep up with the volume," he said. "By 9 a.m., I was already behind in processing orders. We could be up to 12 to 14 hours behind during the peak season."
On a normal day, Madsen said he could handle sales volume with a pair of SATA hard drives. "Unfortunately, we have to build everything for peak," he said.
Having up-to-the-minute information about sales and inventory at HoneyBaked Ham of Georgia's 100 corporate and 200 franchise stores, where the hams are sliced and glazed just before they are sold, was essential during the holiday periods, Madsen said.
"We might have one store sold out, but plenty of stock at another store just down the road without realizing it," he said. "Our district managers couldn't get the insight they needed. And it was hard to manage labor."
At one time, HoneyBaked Ham of Georgia thought it had built itself for peak business thanks to a Hitachi Data Systems AMS 200 it installed a few years ago. However, sales growth outstripped that array's ability to keep up, and so the company looked for a new solution.
Cloud computing was considered a way to handle the burst of business during the three primary holiday seasons, Madsen said.
"The biggest problem is finding a single person who understands a problem without 20 other people pointing fingers at each other," he said. "Today, I understand the servers and storage. I understand where everything is."
NEXT: Finding The Right Storage And Storage Partner
HoneyBaked Ham of Georgia started looking at new storage infrastructures after the Christmas rush of 2011, and took proposals from HP, Dell, NetApp and Hitachi.
Madsen said the final decision was between HP 3PAR, represented by VeriStor, and Dell Compellent storage, represented by another solution provider. He eventually chose the HP 3PAR offering because it could segregate data traffic better than Dell Compellent, and because it had the ability to auto-tune its performance to meet the fast ramping-up of business that happens early in the holiday season.
For VeriStor, which worked with 3PAR since before its 2010 acquisition by HP, and which is currently HP's largest 3PAR channel partner, it was the second chance to present the technology to HoneyBaked, said CTO Steve Bishop.
VeriStor lost out to another solution provider when HoneyBaked purchased the Hitachi AMS 200 because 3PAR at the time was an expensive alternative. "And, at that time, 3PAR was a lesser-known company," Bishop said. "It was seen as a startup even though it was well-funded. HP's acquisition completely took that issue off the table. Now it's part of a large, well-funded company."
The 3PAR solution also has come way down in price since the HP acquisition, Bishop said. "The big difference between 3PAR and other vendors is that 3PAR started at the high end, and over time moved more into the midmarket," he said.
HP 3PAR is also the only storage product line outside of NetApp's Filers, which uses the same code base through the entire lineup, making it an easy product line to sell and use, he said.
The combination of enterprise-class capabilities in a midrange-priced storage array, as well as VeriStor's expertise, closed the deal. Bishop gave credit for making the deal happen to Andrew Dodson, VeriStor account manager, and Gary Hutchins, VeriStor director of solutions architecture.
The new HP 3PAR F400 was installed just after Easter of 2012, and performed as hoped during the Thanksgiving and Christmas rush, Madsen said.
It was much easier to select the HP 3PAR the second time around. "It was expensive the first time," he said. "Also, it was presented for use with only two servers used for handling orders. This time we added our SQL servers as well as our VMware and Exchange email operations."
NEXT: Finally, No Complaints
The results were everything Madsen had hoped for.
"Last year was the first time in my 10 years working here I had zero complaints," he said. "Zero people were calling me and asking if the data had flowed through yet. It was wonderful. In years past, I would have to shut down in the middle of the day. I don't have to do that any more."
Bishop said he loves hearing how customers have benefited from working with VeriStor. "That's the best reward we as a solution provider can get," he said.
VeriStor proved to be a solid partner in the process, Madsen said.
"They came in and had several discussions with us before they started talking which manufacturer to use," he said. "They wanted to know how our operations work before they said what they would propose. It was kind of refreshing."
Since VeriStor installed the initial HP 3PAR F400, the solution provider has added three new disk shelves to increase capacity.
VeriStor also is talking to HoneyBaked about implementing an entry-level HP 3PAR StoreServ 7400 array as a disaster recovery option, Madsen said.
PUBLISHED AUG. 30, 2013