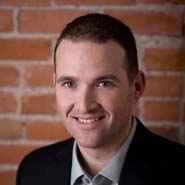 SolidFire's Dave Cahill
All-SSD storage array vendor SolidFire has signaled its intent to overcome the difficulties of integrating high-speed storage into cloud infrastructures with the unveiling this week of its Cloud Builders channel program.
The Cloud Builders channel program stemmed from the kind of issues channel partners face when adding storage to VMware, OpenStack and CloudStack environments, said Dave Cahill, director of strategic alliances for Boulder, Colo.-based SolidFire.
"Customers need help putting in the right infrastructures," Cahill said. "These are nascent technologies, with components that are difficult to stack together."
[Related: SSD Shipments To Double This Year, Hit 40 Percent Of Hard Drive Market By 2016]
Cloud Builders is aimed at carefully selected boutique partners with proven expertise in storage, virtualization and cloud infrastructures, Cahill said.
"We're focused more on private clouds, helping customers who don't have the ability to stand up their own solutions," he said.
SolidFire is helping solution providers take advantage of a wide partner ecosystem built around its all-SSD storage arrays, Cahill said. Partners include hardware vendors such as Dell, Cisco, Arista and Plexxi; hypervisor providers including VMware, Microsoft, Xen and KVM; cloud orchestration from a wide variety of partners; and VMware and Citrix virtual desktop infrastructures, he said.
Frank Leonard, managing partner at Leonard McDowell, an Indianapolis-based solution provider and SolidFire channel partner, said his customers are primarily in the SMB market but that partnering with the vendor under the new Cloud Builders program should help open the door to larger customers.
"SolidFire has a real nice scale-out architecture," Leonard said. "And it has a really nice quality-of-service guarantee to help customers run a lot of different applications simultaneously."
Leonard said he first ran into SolidFire at a VMware Users Group meeting this past summer, and the vendor and his company are already co-sponsoring an end-user event scheduled for this month.
"One of the benefits of working with SolidFire is they are willing to partner with us and invest in marketing," he said. "We're already seeing the benefit from their marketing and funding in the field."
NEXT: Evolution Of SolidFire's Channel Relationships
David Cantu, co-founder and COO of Redapt, a Redmond, Wash.-based solution provider and SolidFire partner, said that any company serious about channel business needs a great channel program.
"SolidFire's product is really a solution, which requires specific skill sets to recommend and deploy," Cantu said. "By having a formal channel program, they're showing partners that they value them. And it makes it easier for us to build solutions without worrying about doing all that engineering work up front and then losing it at the eleventh hour to someone for $1 less."
Redapt has been working with SolidFire for about two years, and really likes the vendor's storage quality-of-service concept, Cantu said.
"It appeals to our customers who are highly performance-driven," he said. "For example, service providers want to deliver storage to clients, and measure that performance. SolidFire allows you to do that across multiple clients."
Despite the introduction of the formal Cloud Builders program, SolidFire is not abandoning its direct sales model, said Jay Prassl, vice president of marketing for the vendor.
"We want to work with the smartest minds out there," he said. "Today, our sales are a mix of indirect and direct, and we'll evolve our model going forward."
SolidFire never had a formal channel program before, SolidFire's Cahill said.
"We have been cultivating relationships in the VMware and cloud ecosystems, and now we see it's important to invest in helping partners in those areas to be successful," he said. "We want to make sure we have the foundation in place to address this market."
However, Cahill said, that does not mean building up SolidFire's channel partner base in a haphazard fashion.
"We're not inviting everyone in," he said. "Our definition of success is saying 'no' more than saying 'yes.'"
PUBLISHED NOV. 1, 2013