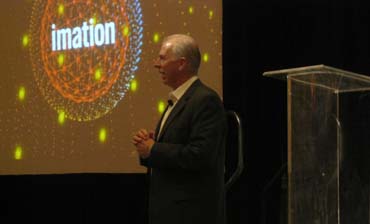 Imation CEO Mark Lucas
Imation, which turned itself from a slowly fading provider of storage media into a powerhouse midrange and enterprise storage and security vendor with a couple of key acquisitions, used its first partner conference in two years to tout its resurgence and prepare for the future.
The celebration this week at the NexStep partner conference in Las Vegas included the introduction of incentives to help solution providers take advantage of the company's Nexsan storage line to better compete against larger companies such as EMC and NetApp.
[Related: Imation Buys Nexsan In $120M Push To Expand Storage Business]
Imation and Nexsan have both come a long way since Imation acquired Nexsan in January in a $120 million deal, according to Mark Lucas, CEO of Oakdale, Minn.-based Imation.
It was Imation's second major enterprise IT acquisition after the company's 2011 acquisition of IronKey, a developer of USB flash storage, security and virtual PC technology.
Prior to those acquisitions, Imation was a major player in the storage tape and other media business facing a fast-declining market, Lucas said in a keynote address at the NexStep conference.
"Why the acquisitions? The answer is very simple. It's for growth. Imation is steeped in media that has not been growing," he said.
What Imation did have, however, was brand recognition and a solid financial foundation, Lucas said.
"We bring scale," he said. "And we bring cash. We're debt-free."
All of that has benefited Nexsan, which until it was acquired was profitable but had reached a plateau in its growth.
Imation is investing about $10 million in its Nexsan business, Lucas said. The company is hiring an additional 12 salespeople and is expanding its engineering staff by about 50 percent.
Imation is quickly growing its support team as well, he said. "We realize that if we want to sell more, we have to support more," he said.
That kind of investment is needed for the future, Lucas said. "We have legacy businesses that are going down," he said. "We are investing to grow."
NEXT: Imation Helps Nexsan Storage Grow
Nexsan CEO Philip Black
Getting acquired by Imation has been a boon to Nexsan and its channel, said Mike Curran, vice president of sales at Open Storage Solutions, a Brampton, Ontario-based solution provider and one of Nexsan's original channel partners.
"Any time a company is acquired, processes may change, but that's simple mechanics," Curran said. "The advantage of the financial backing from Imation far outweighed any mechanical changes."
With the acquisition of Nexsan, Imation got a battle-hardened product line, a strong sales team, a global storage industry presence, and a commitment to a 100 percent channel model, said Ian Williams, president of Imation's Tiered Storage and Security Solutions (TSS) business unit.
"We could have built it on our own, but it would have taken three to four years," he said in a NexStep conference keynote.
TSS including its Nexsan business accounts for nearly 45 percent of Imation's revenue, Williams said. In the near future, it will likely account for more than half of its total revenue, he said.
Philip Black, CEO of Nexsan, said that prior to the acquisition the company had good products and a good channel, but it was unable to scale.
"We were profitable. ... But we needed more investment," he said in his NexStep keynote address. "Imation brought us the ability to invest."
For 2014, that investment will mean significant increase in Nexsan's head count, including new regional sales managers and systems engineers, as well as its inside sales team to help solution providers close more deals, Black said.
Imation also is investing in enhancing the Nexsan channel program, Black said. Nexsan is introducing Channel Assist, which Black said will provide more help from senior regional sales managers on bigger deals without taking account control away from solution providers.
Nexsan also is introducing features to not only halt falling prices, but to actually increase average invoice price for partners, he said.
Mike Cirrincione, vice president of Americas Channels, also introduced a new two-part spif for channel partners at the conference. The spif includes a payment of $1,000 just for quoting a new customer, as well as an additional $3,000 if that customer is closed, Cirrincione said.
Imation has done a good job of connecting partners with customers over the year, Cirrincione said. He cited a survey commissioned by the company which found that 98 percent of customers are satisfied with their resellers. "[They] have to be satisfied since we only sell through you guys," he said.
NEXT: Adding Performance, Features To Grow Partners' Nexsan Business