VMware on Wednesday renamed its VMware View virtual desktop infrastructure (VDI) technology as VMware Horizon and introduced its new VMware Horizon Suite, which brings together several related technologies into an integrated VDI solution.
Both existing VMware VDI technology and technology from some recent acquisitions have been brought together in the new VMware Horizon Suite, said Ben Goodman, lead evangelist for end-user computing at VMware.
The development of the VMware Horizon Suite comes as a new generation of IT users are bringing new devices running a wide range of new applications to the business environment, Goodman said.
[Related: VMware Patches Zero Day Flaw In Desktop Virtualization Software]
"New users increasingly expect to access their apps from anywhere," he said. "Point solutions don't work. But, businesses tend to buy point solution after point solution after point solution, and that just doesn't work. To succeed, they need to transform their apps to run as a service."
VMware Horizon Suite was developed with the recognition that users need to remotely run business apps from any device, Goodman said.
That need led to the move by VMware away from using the letter "v" at the beginning of most of its products to adopting the "Horizon" moniker for its VDI offerings, Goodman said.
"There's no 'v,'" he said. "We're focused on the end-user here."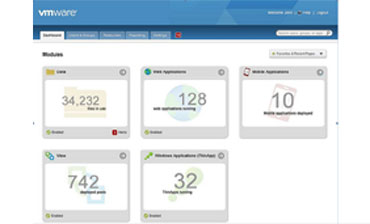 Click for full-sized view.
Horizon, which is being introduced a week before VMware's annual partner conference in Las Vegas, consists of three different products.
The first is VMware Horizon View, previously known as VMware View. Horizon View is the company's software for developing virtual desktops that allow business users to access corporate resources without the need for physical PCs.
VMware on Wednesday unveiled Horizon View 5.2, an updated release of the VDI software that for the first time allows hardware rendering of 3-D graphics, Goodman said. "So now, users can extend VDI to new use cases such as engineering and CAD/CAM applications," he said.
Also new is what Goodman termed gesturing capabilities, which provides Windows desktop products re-rendered as touch-friendly applications for Apple or Google Android tablet PCs. For instance, Goodman said, users who run an application like Microsoft Word on a tablet would find the menu bar larger and easier to touch than without the gesturing capability.
NEXT: Horizon Mirage And Horizon WorkspaceHorizon View 5.2 also provides simplified access to virtual desktops and applications using any HTML5-capable browser without the need for pre-installing client software. Also new is support for Microsoft's Lync unified communications application to go with previous support for similar offerings from Avaya, Cisco and Mitel.
Horizon View also includes Project Octopus, VMware's enterprise-focused answer to Dropbox.
The second part of the VMware Horizon Suite is Horizon Mirage, based on VMware's May 2012 acquisition of Wanova, a startup developer of Mirage, a technology that centralizes image management by using layering technology in the data center. Mirage blends elements of client and server virtualization, giving IT departments full control over endpoints while allowing users to customize their machines as they see fit.
Because Mirage carves a Windows image into layers that can be managed separately, it allows such capabilities as sending an operating system patch to all virtual desktops at once. "So customers end up with local Windows images that are centrally managed and have disaster recover capabilities," VMware's Goodman said.
New to Horizon Mirage is application layering, which allows the capture of individual applications that can be distributed to the desktop while remotely updating or removing those applications.
Horizon Mirage also now has full deduplication and compression capabilities, and it allows application virtualization using the company's ThinApp solution. VMware also added its VMware Fusion 5 Professional software for running Windows applications on Macintosh systems as part of Horizon Mirage.
The third part of VMware Horizon is Horizon Workspace, a new capability that lets IT administrators allocate data, applications or desktops to end users or groups instead of to their devices.
Horizon Workspace, which has been in beta testing since early December, allows a virtual desktop to be opened in a Web browser without the need for an agent, Goodman said. It makes possible collaboration and file and folder sharing while keeping corporate policies in place, as well as allows the access of applications, all based on the actual device used, he said.
The VMware Horizon Suite, including Horizon View, Horizon Mirage and Horizon Workspace, is slated to ship before the end of the first quarter, Goodman said. The bundled price is $300 per named user for a perpetual license, which is renewed by a maintenance contract on a yearly basis, he said.
PUBLISHED FEB. 20, 2013